2 Oxford Place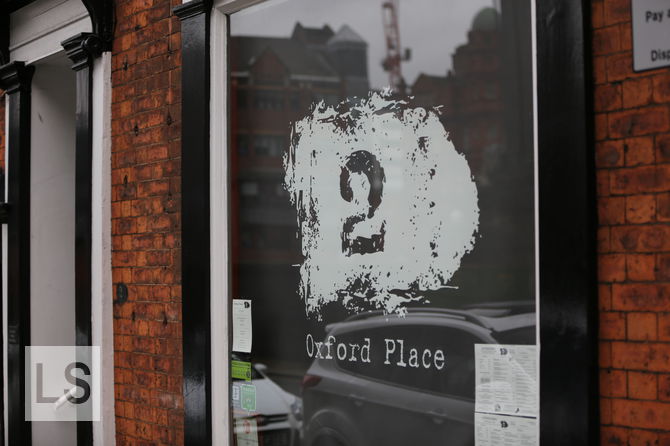 Located around the side of the Town Hall, 2 Oxford Place is a gluten-free restaurant. It is a renovated terraced house and maintains a homely decor. The carpets and wallpaper remind me of my grandma's house. The bathrooms are equally beautiful. Quality toilet paper, hand wash available, and nicely done out.
The atmosphere is enjoyably quiet. Normally Elina cannot be heard over the din, but here she is able to place her own order.
Water arrives in a brandy decanter. I have a steak, which I would describe as pub quality. It comes with with huge chunky chips that do not fall apart when cut into. Elina has the aubergine curry, which impresses. It comes with a floppy poppadom, and we eventually conclude it is supposed to be that way. It is certainly tasty.
For dessert we order the cheesecake and receive a huge slice. It is lucky we only ordered one between the two of us. The waitress's plate clearing is a bit over-zealous. One of my friends is still chewing his last mouthful when she clears the table. The atmosphere is a little inconsistent at times. Very laid back, yet I get called "sir".
Overall, it provides a lovely laid back feel. It is a well presented restaurant. Some of the dishes are a bit pub-like, but others are excellent. Probably worth a visit even if you are merely ambivalent towards gluten.
Reviewed by Leeds Restaurant Guide.
Address
2 Oxford Place, Leeds, LS1 3AX
More options
See more British reviews.