Angelica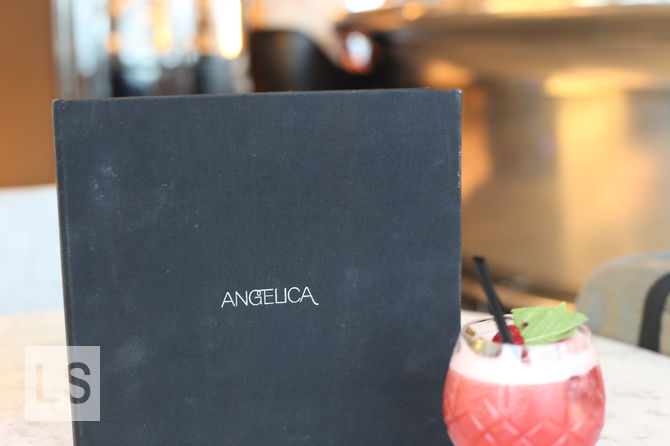 Located at the very top of Leeds Trinity, Angelica occupies the penthouse on what they call level six but actually seems to be floor three by Trinity's strange floor number system. It offers wide views across the city's rooftops, although being in Leeds, they are not as spectacular as you might hope.
I mentioned Elina's onion allergy when making the booking and they bend over backwards to accommodate her, taking us through the menu to explain what did and did not have any onion in. They have a great range of cocktails, although all the alcohol free ones have apple juice in, much to Elina's annoyance, but to my pleasure. They are delicious.
My steak is properly cooked to medium rare and Elina's sea bream has a crispy skin and soft centre. My friend Christos suggested that the portions were a little on the small side when he visited, and I take his point. I am full by the time I have finished mine, but if you are a big eater, you might have wanted more food.
We finish off with sea side donuts and cream. They come as a rack, with about nine donuts on. They are small (no problem, there were nine of them!) which resulted in them being somewhat crispier than I would have liked, but the cream, which has the texture of hummus but the taste of full fat butter, is delightful.
One slight criticism is that we ended up playing knife bingo. You get what look like butter knives laid out on the table, and when I ordered a steak they replaced it with a better one, but it still would not cut the steak. I asked for a serrated one, and they brought me one, which then worked great, and Elina had the one they had originally brought for my steak as that cut the fish far more effectively than the original one. But if that is the only suggestion you can make for a restaurant, I think they are doing pretty well.
Service is fast and overall I had a really enjoyable time at Angelica. I would like to see them rotate their menu a bit, as it is not huge, but I would definitely go back here.
Reviewed by Leeds Restaurant Guide.
Address
Level 6 Trinity Leeds, 70 Boar Lane, Leeds, LS1 6HW
More options
See more International reviews.