Art's Cafe Bar & Restaurant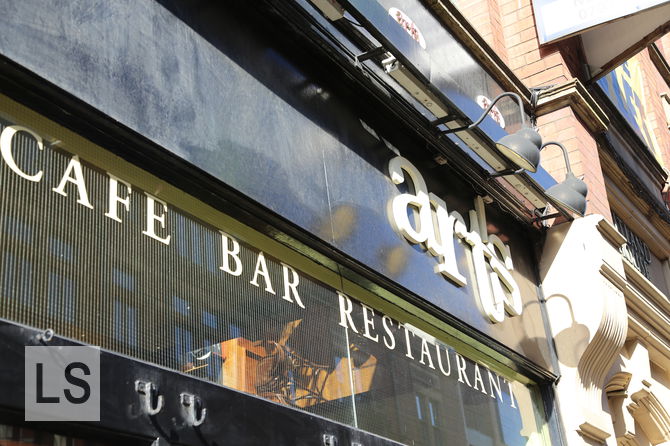 We enter a bustling cafe bar known as Art's, located half way down Call Lane, and are soon seated. I decided it might be better to sit at the back of the place, but it turns out this is a big mistake. The noise levels in the main seating area at the back are almost intolerable. We cannot hold a conversation with each other sitting the other side of the table without shouting.
This is how we come to learn all about the woman sitting on the table next to us, who is explaining to her friend that something was not her fault, because she did not send any offensive emails, text messages or other communications. You know, the kind of conversation you only have if you clearly have been offensive to someone but are not the sort of person who admits it. She later goes on to discuss how some people are really good at forgiveness, but she is not one of those people. I had guessed that already.
The problems are exacerbated by the layout and design of the restaurant. The tables are crammed in to fit in as many as possible, but the result of this is that people are constantly pushing past your chair.
We placed our order and the food arrived twenty minutes later. The burger was small (which I like, as it is an ample size to eat without feeling too full) and high quality, and Elina's fish finger baguette was actually a big piece of fish, battered and served in an attractive piece of bread. The chips were crispy and well cooked too.
As we went to the till to pay (we asked for the bill, but it never turned up), the waitress asks me if everything has been OK, and I mention the noise levels made it a little difficult to hold a conversation. She says they can't help being busy.
Overall, the food was good, but I did not enjoy the atmosphere. The tables felt too cramped, I could not hold a conversation without shouting and I might even go as far as to say I found the staff surly. Perhaps it would be a nicer experience when it is less busy.
Reviewed by Leeds Restaurant Guide.
Address
42 Call Ln, Leeds, West Yorkshire LS1 6DT
More options
See more International reviews.