Azucar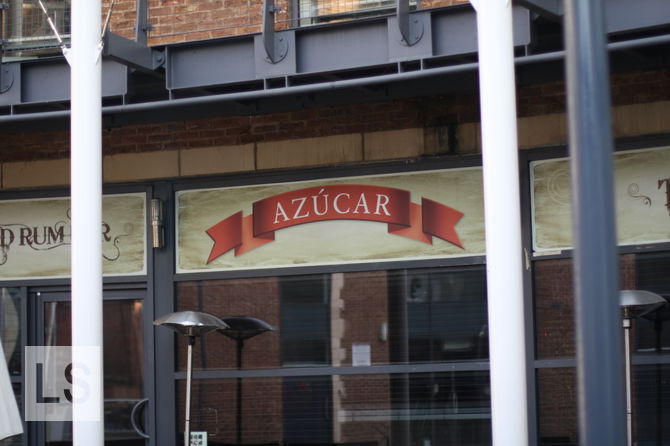 Having been beaten to it the week before, when a company had decided to book out the entire restaurant for a private party, we headed down to Azucar Bar to take advantage of the last day they were running a 50% off your food bill with a voucher offer. The Yorkshireman in me could not pass it up.
The restaurant was fairly quiet when we arrived, and we were shown to a booth in the corner. The seating was nice, at least in the booths, I cannot say the same for the regular tables, and the lighting was mood, which would normally be a positive point but makes it difficult to take photos without a flash unit, which I had not brought.
We decided to go for a mixture of tapas and kebab items, which they helpfully volunteered to stagger so that we could have the tapas as a starter before moving on to the kebabs. The battered king prawns tasted like miniature fish and chips while the meatballs were also excellent, though more sauce than meatball. The kebabs were enjoyable too, if a little unimaginative - a flour tortilla containing lettuce, tomato, cucumber, and your choice of filling.
Service was generally prompt, with our food arriving within a reasonable time frame, and we did not have to wait long between finishing our starters and being served the rest of our meals. I did have to get up and go ask for the bill though.
On the whole, it was an enjoyable and filling meal, but the range of tapas did not suit my tastes so well, and I did not feel it matched up to the high standard set by others in the city. Certainly an enjoyable place to dine, but I would not rush back here.
Reviewed by Leeds Restaurant Guide.
Address
5 Brewery Pl, Leeds LS10 1JF
More options
See more Latin reviews.