Bill's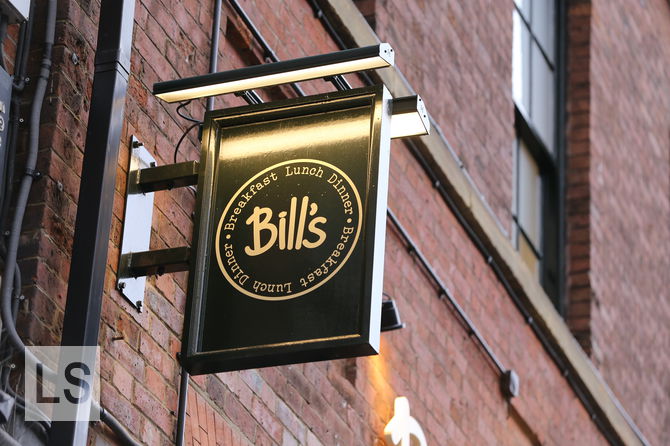 We had previously dined at a Bill's while visiting friends in Leamington Spa. As we did, a new branch opened in Leeds, so we decided to pay this one a visit also. It seems to have opened with a bang. We arrived on a Saturday lunch time and are told there will be a twenty minute wait.
We disappear to do some shopping and return twenty minutes later. True to their word, our table is ready and the waitress even remembers my name. The restaurant is uniquely decorated to fit in with the building they are occupying. They also have a lot of cooking products for sale, a fad with modern restaurants that I have never really been on board with.
Timings are just about acceptable. It takes nine minutes for the waitress to take our drinks order, though she does apologise for the delay. Our food turns up 22 minutes after we order. We are offered tap water without prompting, though the jug could do with some ice.
I have the butterfly chicken burger. It is well seasoned and comes with a time-tested combination of cheese, salad, tomato and mayo. The bun holds together well. It comes with a side of sweet potato fries. Elina's dish outshines mine. She opts for the special: a South Indian fish curry. It is delicious.
They add a 10% service charge onto the bill automatically.
Bill's is a fairly middle-of-the-road restaurant. They have a sizeable selection that should allow most diners to find something they like. The food they deliver is tasty and reasonably priced. It is not a diamond, but it is a dependable choice.
Reviewed by Leeds Restaurant Guide.
Address
1 Albion Place, Leeds, LS1 6JL
More options
See more International reviews.