Cafe Italia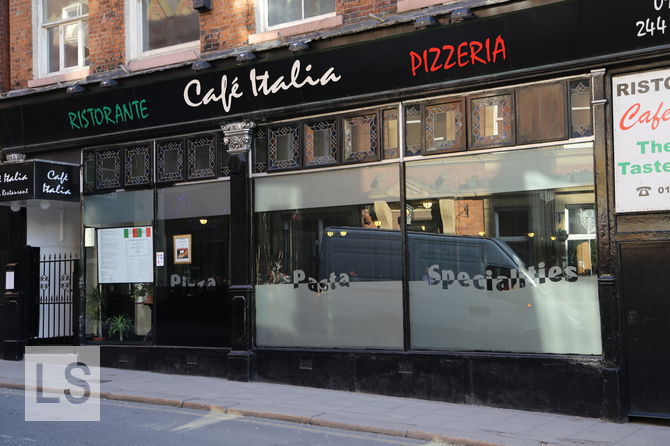 This restaurant has closed down.
Arriving on a lunch time, I once again found myself walking into a restaurant that has no other customers. I do not know how so many restaurants in Leeds survive given I seem to the be the only person who eats there. Happily though, they do! We were greeted with a warm welcome and shown to a table.
Their lunch time offer brings their £10 pizza and pasta dishes down to a most reasonable £7, and that also includes a soft drink. No further restrictions were placed on this offer, so Elina decided to maximise her value and go for the seafood pizza. This was probably more down to her love of seafood, but nevertheless, as a Yorkshireman, I have never been more proud of her.
The pizza was incredibly thin and just the right level of crispy. This is almost certainly the closest thing to authentic Italian food that I have found in Leeds. The seafood pizza comes with a thumbs up too - they actually put seafood on it, not just a handful of prawns.
After we had finished eating I attempted to acquire the bill, but the waiter flashed his puppy dog eyes at me and asked if I was really going to leave without trying the homemade tiramisu. I could not say no to that, and thank god I did not. It was indulgently delicious. Do not even look at the dessert menu - just get that.
Overall, the staff were attentive, the service was prompt and the food was delicious. I think this just became my favourite Italian restaurant.
Reviewed by Leeds Restaurant Guide.
Address
7-8 Mill Hill, Leeds, West Yorkshire LS1 5DQ
More options
See more Italian reviews.