Carluccio's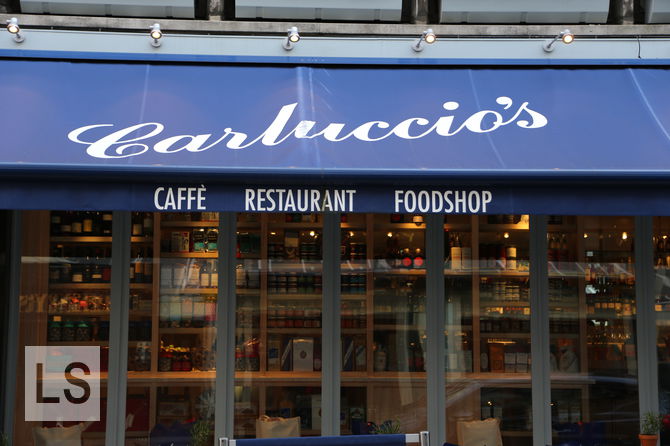 It is Sunday evening and we need somewhere to eat. We eventually settle on Carluccio's, as it is one of the few restaurants on Greek Street we had not eaten at. It is relatively quiet and we are guided round a variety of exciting seating options, eventually picking one on the far side of the restaurant.
We are given menus and the waiter lists three or four dishes that they have run out of. I order an orange juice, to which he later returns to inform us that they have run out of that too. Luckily, I manage to resist the temptation to point out there is a Tesco round the corner, and order the fresh lemonade instead. It turns out to be delicious, and I end up working my way through a few of them, so no harm done.
The starters are massive, both the minestrone soup and the calamari, which comes on a plate piled high with more than we can eat. We are not even sure what one of the sauces is, but the waiter drops what he is doing to come over and explain (turns out, it is crushed peppers). So by the end of our first course, I am already stuffed.
For the main, we opted to share the 23oz steak, which did not seem that big when I did the maths of grams per person, but managed to fill almost a quarter of the table when it turned up, and provided so much food that I am still finishing it off for lunch as I write this. Sadly, this meant skipping dessert (we had already provisionally picked out the profiteroles) and taking the remaining food home with us.
The service was first class; it was easily available when we needed it (although there were only two other groups in the restaurant) and our waiter was attentive and helpful.
Our only real criticism of the evening was that we were charged £6.50 for bread and olives. They never said they were free, but as they did not mention they charged for them either, it seems a little excessive to add quite so much onto the bill for nibbles. Overall though, it was a very pleasurable experience.
Vegetarian & vegan options
They have a separate menu for vegetarians but it pays little attention to vegans.
Reviewed by Leeds Restaurant Guide.
Address
2-5 Greek St, Leeds, West Yorkshire LS1 5SX
More options
See more Italian reviews.