Chino Latino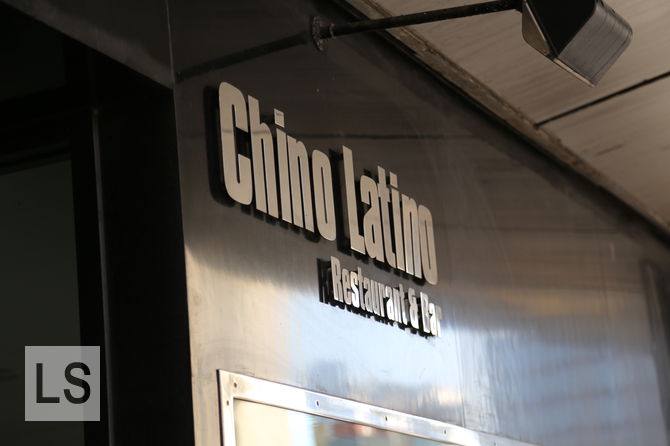 It does not have the biggest entrance. You might be confused into thinking it had actually closed down given the door under the sign remains locked. But winding your way through the Park Plaza hotel bar, you will eventually find yourself in the hotel's restaurant, Chino Latino.
We walk in and there is no one there. I mean no one. There isn't even a sign of people, it is like we have walked into Silent Hill. Eventually, someone who I think turned out to be the head chef walks through and I ask him if the restaurant is open. He says it should be, with a puzzled look, and says he will go and find someone, eventually returning with a waiter who finds us a seat.
For some reason, despite being the only people in the restaurant, we are seated by the window that faces onto the Trinity shopping centre building site rather than Boar Lane. He then takes our drinks orders and disappears for what I would consider a long time given we only order a lemonade and an orange juice. Once we have ordered our food, the quiet background music is not enough to drown out the open kitchen and we can hear all the banter as the head chef gets angrier and angrier that our food is not ready yet. In the end it takes thirty minutes, which I think is a rather excessive time given we are the only customers in the restaurant and there appear to be at least five people working in the kitchen.
Finally, the food turns up. We have both ordered the Chicken Bento Box. The starter is a mix of Thai fishcakes and deep fried vegetables which provide a refreshing mixture of textures. The chicken is done in some kind of mild Thai curry sauce and the sticky jasmine rice complements it perfectly. What really tops it off is the dessert. It is incredible. It is a chocolate mousse, but it's the densest mousse we have ever tasted - it is like eating a brownie, yet it is somehow a mousse! Indeed, it is so thick that it is the first time I think I have ever seen Elina fail to finish a dessert. I did not even get half way through it before I had to stop, and even then it was after half a dozen "I'm full, this is my very last bite" thoughts.
Consequently, I do not quite know what to think. I want to hate it. The first twenty minutes felt like we had somehow stumbled into Fawlty Towers, but once the food arrived all was forgiven because it really was delicious. I imagine if you were to dine on an evening, when they are actually expecting customers to turn up, it would be a superb experience. As it was, on a Friday lunch time it was an acceptable one.
Reviewed by Leeds Restaurant Guide.
Address
Park Plaza Leeds, Boar Ln, Leeds, Yorkshire LS1 5NS
More options
See more Latin reviews.