Cielo Blanco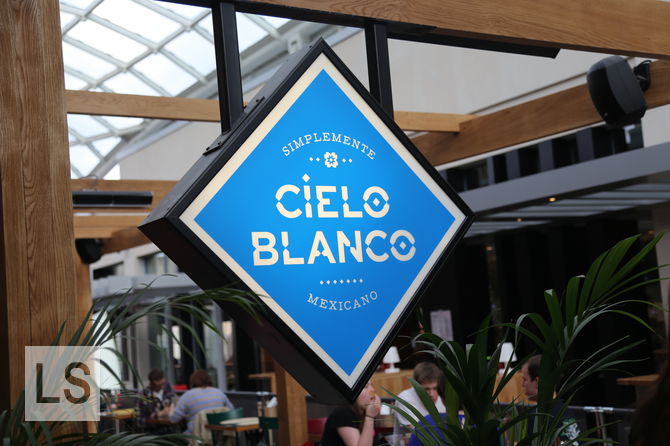 Located on the food level of Trinity, I cannot help feeling that the owners of Cielo Blanco had been duped. Their extensive outside seating area seems worthless in winter, given the lack of an enclosed roof makes it strikingly cold within Trinity. Although perhaps it will become useful in summer, if the giant greenhouse does not then make it too warm.
We are given a table that feels a little in the way in the long, thin restaurant, but nothing too much to worry about. They have a wide range of non-alcoholic cocktails and we are soon sitting with one in front of each of us. It goes down easy, with a superb variety of flavours contained within, but I did feel that between all the ice and the dressing, it was gone a little too quickly.
We order the meat sharing board, with steak. You get eight soft tortillas and a host of ingredients to put in them including multiple salsas, onions, chipotle and several meats depending on which board you choose. Perfect for allowing Elina to avoid the things she does not like.
The variety of tastes provided was wide and enjoyable, though I could have certainly eaten my way through a larger portion of steak. We both left full though, with the beef mole filling any gaps that were left. If you are in the mood for Mexican food, this is certainly one of the better places to go.
Reviewed by Leeds Restaurant Guide.
Address
415 Trinity Leeds, Albion Street, Leeds, LS1 5AY
More options
See more Latin reviews.