Crafthouse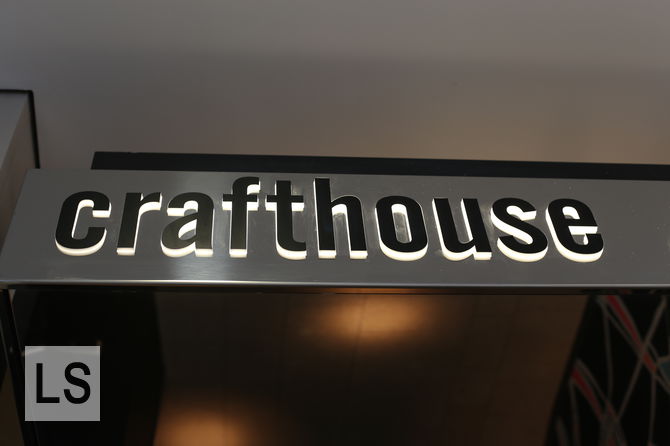 On the upper floors of Trinity you will find Crafthouse (sister venue to Angelica) that is more focused on the restaurant side than being a bar. Despite being on the floor below, the south facing dining area actually offers a better view than we had at Angelica, looking out over the shopping centre's roof.
Having ordered, we are given miniature bread rolls that, much to Elina's delight, were darker than most English bread. After much dithering, I eventually settled on the sirloin which offered a rich charcoal flavour and had fat that you could actually swallow. Great news given it contains so much of the flavour.
My steak came with a sauce and a side of chips, but I would have liked to see some garnish on the steak, such as water cress or green leaf. Elina's sea bass came fully dressed in a pan, which resulted in plenty of flavour, although it made it a little difficult to eat, especially with all the bones.
Service was generally attentive, and our water glasses got filled without prompting, although I would have liked to see our lemon tart dessert arrive a little faster. The front of house staff were chatty and offered to book us a taxi on exit.
Given they are sister venues, it is impossible to not compare the experience with Angelica. At Angelica, I thought we got an experience equal to Crafthouse, without the price tag. For that reason, if I was heading back, I think I would opt to go to Angelica instead.
Reviewed by Leeds Restaurant Guide.
Address
Level 5 Trinity Leeds, 70 Boar Lane, Leeds, LS1 6HW
More options
See more International reviews.