Da Mario Pizzeria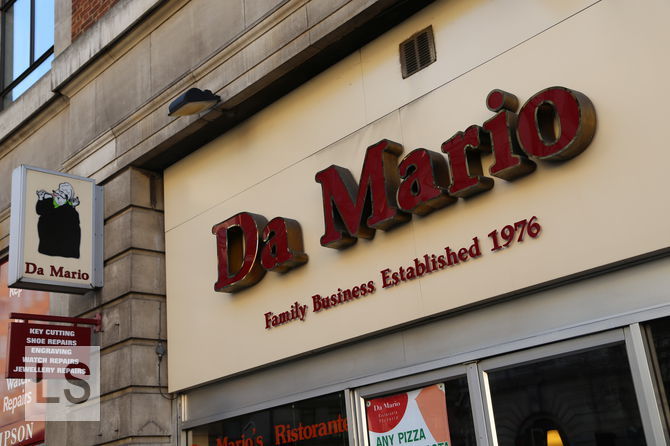 I had never been to Da Mario. It was always seen as a "first date" restaurant in my circle of friends – the kind of place you take a girl when you do not want to spend too much money on her. But having such a glaring omission in my culinary experience just would not do.
We turned up on a Saturday night without a reservation. They were busy, but willing to accommodate us and offered constant feedback - "we're just waiting for this table to finish, then we'll have you sat down in two minutes", explained the maître d'.
Sure enough we were soon sitting down with menus in front of us. The fact that BBQ chicken wings was the first item on the menu did make me slightly question the authenticity of the Italian restaurant, but the rest of the menu looked delicious. I opted for the fillet steak in crushed black pepper sauce.
The staff were warm and friendly, and amenable to any requests we had - Elina cannot eat onions but they said they would be happy to prepare any of the dishes without it. Once we had ordered, the food arrived quickly.
My fillet steak was reasonably well cooked - I would have liked it slightly pinker in the middle but for such a thick piece of meat, it was rather well cooked. The peppercorn sauce was more of a soup given how much there was of it - luckily, I like peppercorn sauce quite a lot! Elina's tuna was also lovely.
All in all, I was really impressed with Da Mario. It is a friendly, well run, tasty-food-serving restaurant. Do not let the appearance put you off.
Reviewed by Leeds Restaurant Guide.
Address
105 The Headrow, Leeds, West Yorkshire LS1 5JW
More options
See more Italian reviews.