Dakota
Nestled into Greek Street, on the former site of Akbar's The Grand sits a black-fronted building sporting no signage. Are we in the right place? The process of elimination seems to suggest we are, and the girl on the front desk confirms our suspicions.
The sliding doors open to reveal a well-decorated interior. It is black too, with plush seating and artwork adorning the walls. We begin with a drink at the bar. The cocktail menu starts with an introductory page. It's that kind of a place.
Their drinks menu is extensive: wines, spirits, and cocktails are all in plentiful supply. There are non-alcoholic cocktails, too, though they all seem to contain apple, much to Elina's dismay and my delight. There are complimentary bar snacks, too, which, as far as we can tell, is cereal put in a little bowl.
The restaurant
The restaurant is downstairs in the basement. Everything down here is well upholstered, too. A mixture of black and exposed brick work is broken up by more artwork and large mirrors hanging from the walls at jaunty angles. Which does a great job of hiding the fact that you are, when it comes down to it, in a basement. Still, that is where all the best French restaurants are, so why not a grill, too?
The menu is well-designed. Simple, with enough choice to give you variety without being overwhelming. I must deduct at least one point for using the word "entree" to refer to main courses, however. It's a French word meaning starter. This is something I talk a lot about at Pedants Anonymous.
We are also served a pre-dinner snack. It is Venetian dip, which turns out to be a type of fancy ketchup. It boasts a strong tomato flavour with just a hint of garlic. There is something comforting about it: it reminds me of Mary Berry's meatball sauce (note that Mary Berry has never personally made me her meatball sauce) and is served with focaccia.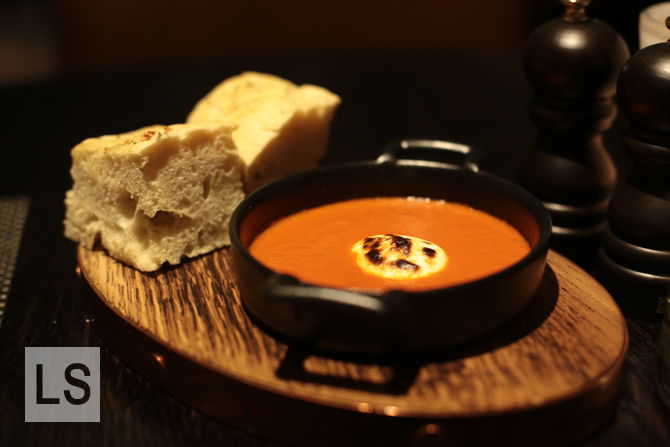 Starters
I start with scallops served with a pea puree, cavolo nero and black pudding. The scallops are beautifully cooked: seared on the outside and tender in the middle. And the black budding adds something, too. As Elina puts it, "you can taste the blood".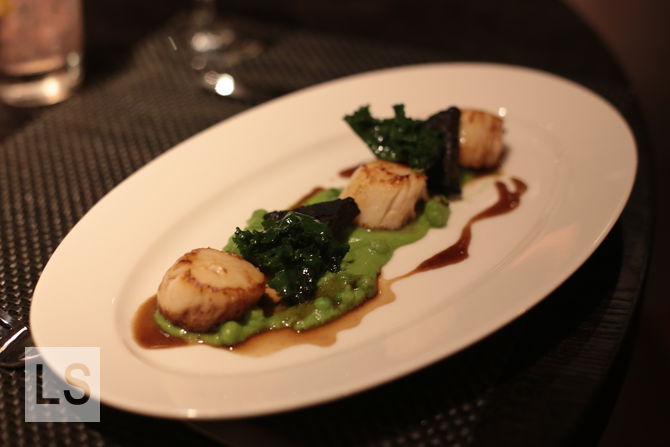 Elina starts with asparagus served with a poached egg and morels. The asparagus is sweet, but it's difficult to tell whether that is coming from its freshness or the sauce. The egg is perhaps a touch overdone as the yolk has set, but the lightly pickled morels work beautifully.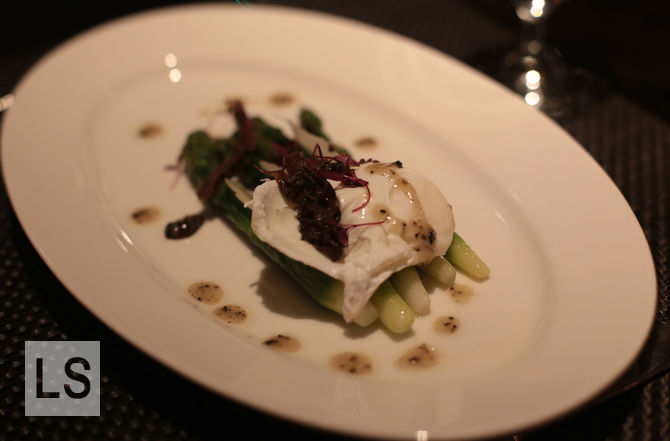 Main course
As it is technically a grill, I thought it would be rude _not_ to go for steak. I settle on the rib eye and challenge the chef to serve me as thick a peppercorn sauce as they dare.
On that front, they deliver. The sauce has a strong flavour but is undoubtedly thick: you can swim a chip through it and achieve a substantial coating without it falling off.
The steak is so-so. It is an exceptionally fatty cut, even for rib eye. This is not a problem in itself; it can still be a very tasty piece of meat. However, you need to really blast it in the pan to render all that fatty goodness.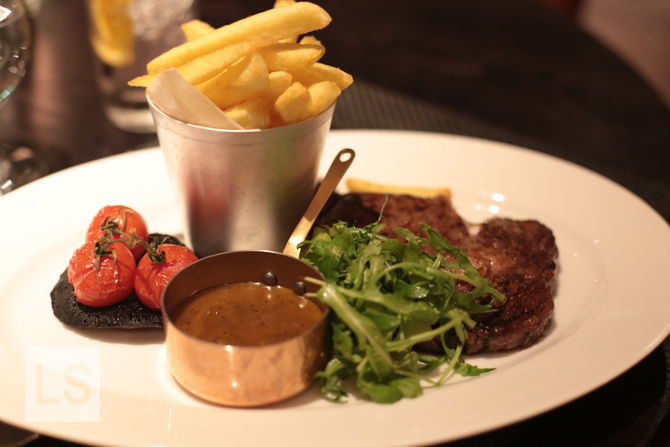 Elina loves eating fatty meat, so for her, it was ideal. We end up switching our dishes for the second half, and I upgrade myself to her duck a l'orange.
At first glance, the duck appears overdone. It is fading pink in the centre. But cutting in and tasting soon proves otherwise. Beautifully tender in the middle while crispy on the outside: this is everything you want from a duck breast.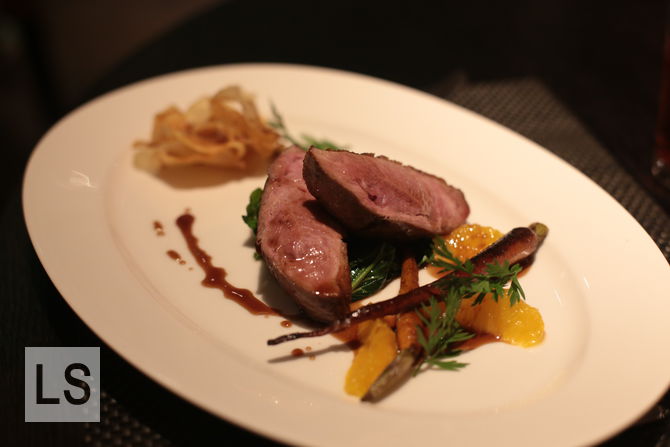 The spinach it is served with successfully avoids being slimy and packs a lot of flavours, too. The accompaniments also include miniature carrots and game chips.
Dessert
For dessert, I opt for the dark chocolate crémeux. I am not totally clear on what a crémeux is, but what is life without a little adventure? It is like a ganache, for reference.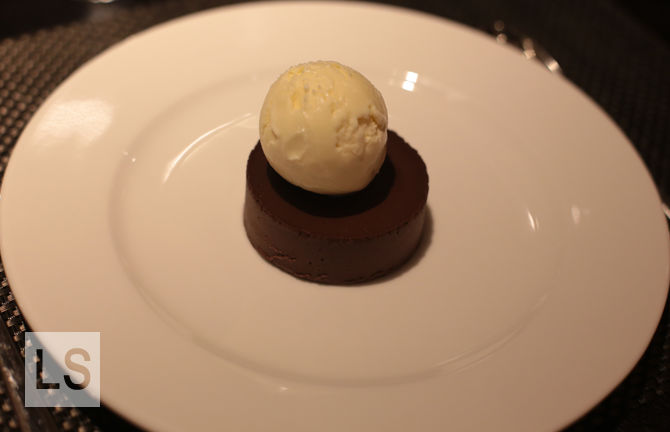 It is served with a hazelnut ice cream, which I trade in for a sweet cicely ice cream. It has an understated aniseed flavour that lightens up the dish wonderfully.
Elina has the crème brûlée. It is always a fine line as to how much you burn the top. That is what you are supposed to do, after all. In this case, it is perhaps a little over-burnt in places, developing a rather bitter taste.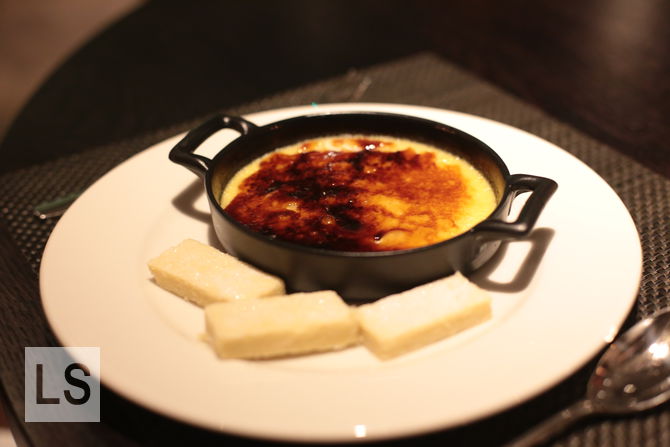 However, cracking through the top layer and into the ocean below, you are treated to a mouth-watering creamy custard that puts to shame most of the crème brûlées we have encountered so far. It is served with a soft and crumbly shortbread.
Conclusion
How would we sum up Dakota? It is a tough one.
They're not doing anything creative or inspiring with the food. It's the classics: steak and chips, duck a l'orange, scallops and peas.
But their food is worthy of note. It is executed well, certainly better than any other hotel in Leeds, and better than many good restaurants, too.
More importantly, the service is second to none. There are people everywhere. On the front desk, behind the bar, at the entrance to the restaurant. They seem to work in packs to make sure there is always some available.
To me, this is a destination to go if you want to impress people. The plush interior, well-thought-out food and exceptional service make it an ideal location for building business relationships or celebratory family meals.
Reviewed by Leeds Restaurant Guide by invite.
Address
8 Russell Steet, Leeds, LS1 5RN
More options
See more Hotels & Casinos reviews.