Five Guys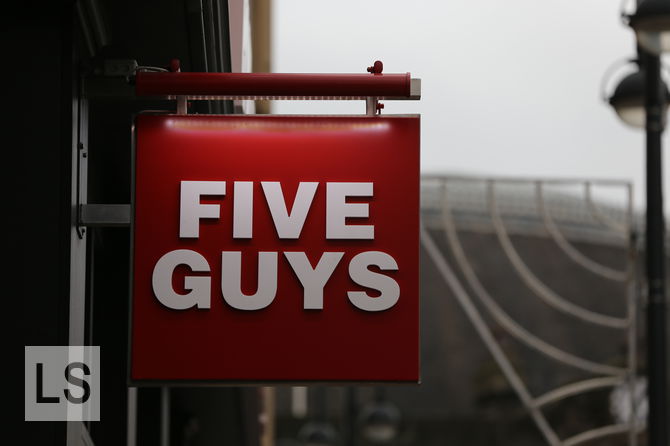 Five Guys has a clear slogan: burger and fries. I am rather confused as to what to do when I enter but my friend points me in the right direction. You order at the till, then collect at the end. The menu is simple. I can have a burger with cheese, or bacon, or both. There are also sandwiches, hot dogs and a few other items available.
Once I have selected my burger I then choose the toppings. You can have as many as you like, all included in the price. After I order my burger begins life on the production line. I also order a milkshake which is handed to me, while my friend Chris orders a soft drink and is given an empty cup.
At the end of the line there are some Coca-Cola "freestyle" machines. These allow you to pick any one of a number of drinks. Over one hundred according to their website. You can have your coke with vanilla for example. Or a dozen different flavours of juice. All come from one magical machine.
They shout your order number when the food is ready. This is annoying. You either have to stand around, or go find a table and hope you hear the shout. This is a tough challenge as the volume of the music means having a conversation across a table is a tough challenge for me.
The food comes in a brown bag. My small chips is a cup overflowing with twice as many chips again. I did not finish my small, and imagine a larger size would easily feed two. I do not think I have ever seen so much salt put on to chips before. My milkshake tastes heavy on the ice cream and a little light on the milk.
The burger itself is average. It tastes like a fast-food-joint burger. The bacon is too crispy for my taste. The toppings are fine, except that they seem to have forgotten my tomato. It is printed on the receipt, but I do not bother to go back and complain. The onion has a strong flavour.
The food here is fine, and the service is fast. However, I paid over £16 for my meal. I would describe it as fast food quality. For that money I could either go to a sit down burger restaurant, or go to a fast food place several times.
Reviewed by Leeds Restaurant Guide.
Address
9/11 Duncan Street, Leeds, West Yorkshire, LS1 6DL
More options
See more Fast Food reviews.