Gaucho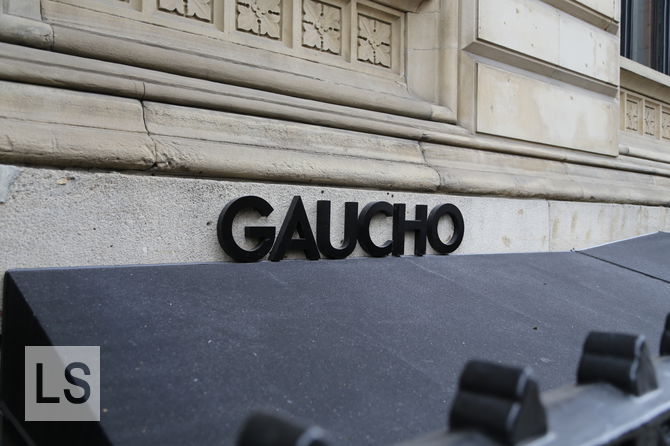 It is a Friday night, we have no food in and I have just finished my first week consulting with a new client. There was only one thing to do - head out to a fine restaurant.
We arrived at Gaucho without a reservation, to find it rather busy. However, the friendly woman on the front desk said she could fit us in, providing that she could have the table back in an hour and a quarter. Luckily, with it being a steak restaurant, where your meat is cooked for a handful of minutes at the most, this was a perfectly comfortable timeframe. She took my umbrella and introduced us to Ben, who would be looking after us for the evening.
After having furnished us with menus and drinks, he then brings out the meat board. Yes, that's right, the meat board. It is a board containing the different steaks they have on offer. He then takes the time to talk us through the various choices and how the taste differs, and what might match our personal taste. He also suggests we could split one of the bigger, more expensive steaks.
We decide to take up the suggestion and order the marinated fillet special, medium rare, accompanied by a bearnaise sauce.
It soon arrives and tastes absolutely superb. Gaucho is one of those steak restaurants where you do not get a steak knife, you just get a regular knife because with meat this tender, you do not need anything more. The steak melts in my mouth and is oozing with flavour. All too soon the experience is over, but how mouth-wateringly delicious it was while it lasted.
The staff were friendly and helpful, to the point where I, a Yorkshireman, felt an urge to tip generously. I will certainly be making some return trips here. Finally Leeds has competition for the best steak restaurant in town.
Reviewed by Leeds Restaurant Guide.
Address
21-22 Park Row, Leeds LS1 5JF
More options
See more Steak House reviews.