Grove Inn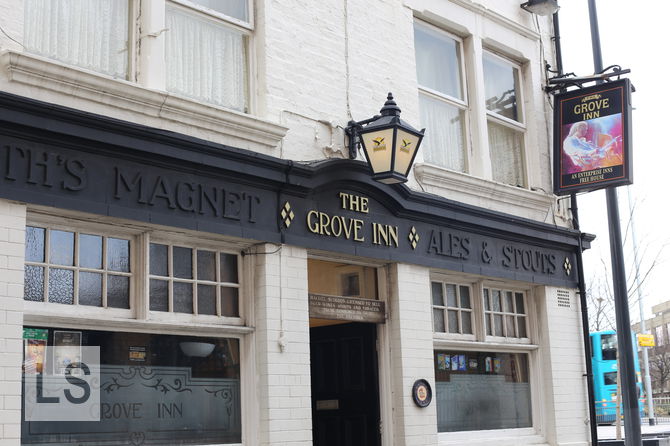 There is a striking contrast between Bridgewater Place, the tallest building in Yorkshire, and the traditional pub that lies beside it. The Grove offers everything you would expect in a traditional public house - original features, real ales, and even live music.
It is not the most well maintained place. There are holes in the wallpaper, the furniture is rickety and the lamp above us looks like it is in need of a good dust. However, the staff are friendly and there is Dire Straits playing on the juke box, so I cannot complain too much.
Their food menu leaves more to be desired however. Their Sunday selection includes two Yorkshire pudding options - one with beef and one with sausages, as well as some burgers, curries and a few other items. We decide to order one each of the Yorkshires.
They are large, covering the entire plate and filled with gravy. The flavour leaves a lot to the imagination though; it certainly is not one of the best Yorkshires I have had in Leeds. The short, fat sausages are an improvement, but really feel like more of a blunt instrument of taste than a well conceived Sunday dinner.
Elina's beef comes up to similar standards. It is sliced very thinly so that it feels like sandwich filling. Neither dish came with any sides, and the only vegetables were onions, although to be fair it was only £4.50.
Overall, the sign above the door promised "good food" and I do not feel they delivered on that. It is a great place to go for a drink, but I would not want to eat here again.
Reviewed by Leeds Restaurant Guide.
Address
Back Row, Leeds, LS11 5PL
More options
See more Sunday Roast reviews.