Hansas Gujarati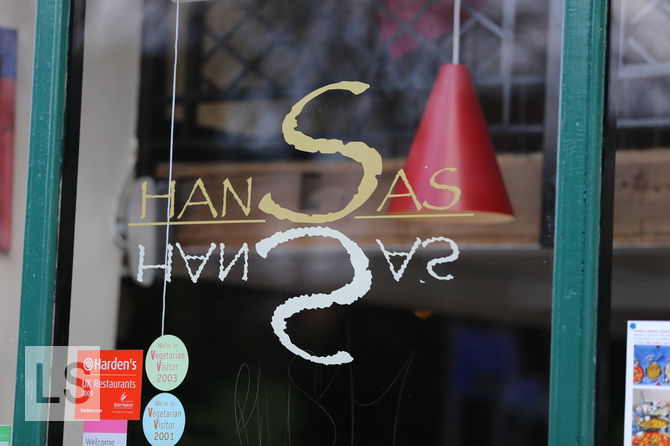 The concept of Gujarati vegetarian cuisine was intriguing, and so I had been meaning to make it to Hansa's for a while. Unfortunately, every time we had planned to go fell on a Sunday, and as they are not open on a Sunday evening, those plans were somewhat scuppered. Finally though, we arrive on the Saturday before Christmas.
It is rather quiet, and we spend some time debating whether it being close to Christmas would increase, or decrease, the likelihood of people going to restaurants. I am told you normally have to book if you want to get a table on a weekend. While we look over the menu, we nibble on a substance that none of us are really sure what it is. Some kind of spicy nuts perhaps, but in any case, they are incredibly moorish.
Not being too au fait with most of the items on the menu, I decide to go with Hansa's Special Thali. A thali is a whole meal on a plate, so you just order it as a complete dish and it includes a starter, a main and something sweet too, just like a bento box. That does not limit the choices though. Almost every item included has a choice of two, so we decide to split each option so we can try everything.
The thali arrives with loads of different dishes on the plate, so you never really get bored, as you can just skip from dish to dish. The food is delicious, although I do occasionally feel like it would have benefitted from some less dry ingredients (though my guess would be that that could compromise the authenticity).
The bathrooms certainly are not the nicest you will find.
Overall, a very enjoyable meal and well worth at least one visit.
Vegan options
Most items on the menu are vegan or have the option to be vegan.
Reviewed by Leeds Restaurant Guide.
Address
72-74 North St, Leeds, West Yorkshire LS2 7PN
More options
See more Vegetarian reviews.