Harry's Bar & Brasserie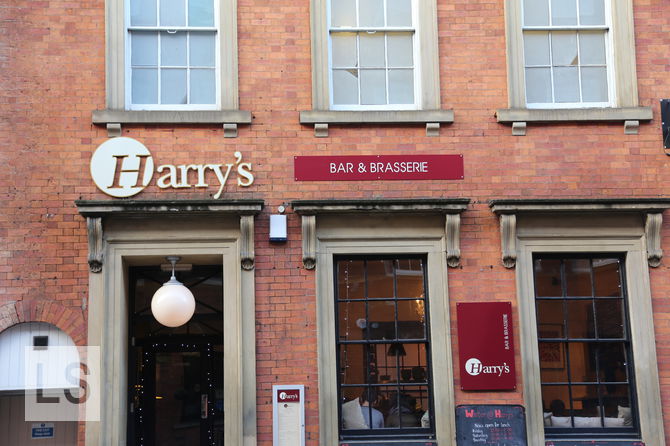 This restaurant has closed down.
When Anthony's Restaurant vacated their premises on Boar Lane, Dish moved in and opened up a sister restaurant in their old location on Great George Street. Harry's Bar & Brasserie is the result.
The restaurant is cramped but has plenty of nice touches. The original fireplace is still intact and there are shelves of books. The menus themselves are stapled inside of books too. The pedantic side of me wants to point out that four of the bulbs in the chandelier are out though. Some more heating would be nice too; we keep our hoodies on the whole time. At 7pm a pianist enters and begins playing.
My starter is a crab salad. I find the dish a little odd as the tiger prawns are served warm while everything else is cold. It had a slightly gritty flavour that seafood can often come with.
My main is a chicken breast with chorizo. The meat is tasty but the mash is not to my taste and I find the dish rather too rich. Elina starts with a bruschetta which is enjoyable but not memorable, followed by goat's cheese that the chef kindly rewrote all the sides for to avoid onions.
Service is slow at times and our bill has a number of mistakes on that we have to get corrected. I suspect Harry's would be an excellent experience on a good day. For us, we visited them on an average one.
Reviewed by Leeds Restaurant Guide.
Address
18 Great George St, Leeds, West Yorkshire, LS1 3DW
More options
See more British reviews.