Henry's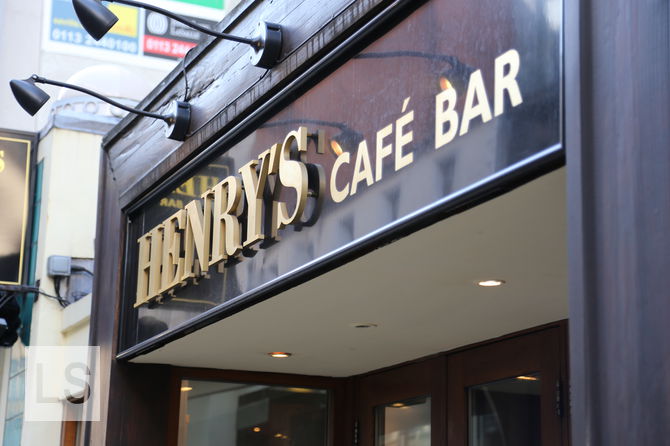 This restaurant has closed down.
I have been in Henry's before, but never while sober, so this was set to be a totally different experience. There did not seem to be anyone about, so we picked a table, which turned out to be in the restaurant section anyway, and sat down. I do not know if we were supposed to given they were running a table service, but there was only one other group of people in the place anyway.
We decided to go for the two course set menu, which seemed reasonable value at £10 each.
I went for the stuffed pork, which fulfilled its description snugly. Sage and onion stuffing, wrapped in pork with some creamy mash. The pork was a bit hard to carve up with the knife provided, but it was reasonably enjoyable nonetheless.
For dessert, I opted for the chocolate brownie, as did Elina once she found out that the freezer had broken down and the strawberry ice cream was no longer available. It was beautifully presented, with a hatched chocolate pattern on the plate as well as raspberries and blueberries.
The meal was enjoyable, but with the exciting variety of restaurants in Leeds, I cannot imagine I will be going back anytime soon.
Reviewed by Leeds Restaurant Guide.
Address
10 Greek St, Leeds, West Yorkshire LS1 5RU
More options
See more Pub Grub reviews.