Home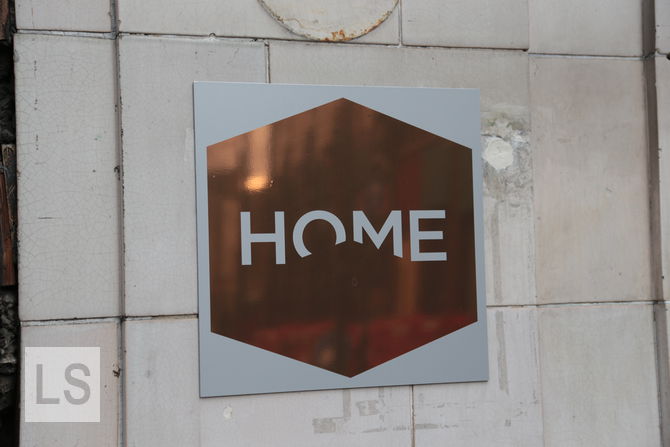 Nestled near the market, behind an unassuming door, is Home. It's a high-end restaurant that specialises in their ten-course taster menu, available in both standard and vegetarian versions, with a selection of wine options to go with them.
Tables are booked up well in advance on a weekend. We opt to go for the chef's table: a bar looking directly into the kitchen so that you can see all of the cooking.
The reception area is beautifully decorated with some home furnishings and a large window looking out into the street. We're taken straight through to the restaurant, though, which is a large open room with no windows. It's not really what my home looks like, to be honest.
The food is a delight. It's traditional British ingredients, done very well. Not in a crazy Heston Blumenthal, just in an up-market modern presentation. The pea and ham and powerfully peppery. The beetroot truffle is precisely what it sounds like. Even the bread and butter is delicious.
I was interested to see how the chocolate on the duck terrine would play out. Roach and Conch were on a mission to add chocolate to everything, and it ended badly for them. No such problems here: it adds a hint of flavour without overpowering it.
In case you're panicking that the parsnip course will not contain any meat at all, have to fear, it is roasted in lamb fat.
The plating is traditional. You don't have to eat your food out of a bowler hat using a toothbrush, much to our relief.
What didn't we like about Home? Mostly the price. It was £70 per person for the set menu. That's about standard for such a menu in Leeds. But that's not the end of the story. If you want the cheese course, that is an extra ten pounds per head. And the top wine package is £90. And, when you have added all of that on, there is a mandatory 12.5% service charge. The result is that you can easily end up spending nearly £200 per head.
And while it is always going to be difficult to manage the amount of food in a ten-course menu, honestly, I could have eaten more. It was a stark contrast to having roll myself home after visiting Anthony's.
The menu changes monthly, so you won't be eating the same things as us. Children are not welcome, and you have to go up a staircase to get to the restaurant, so if you have limited mobility, you're out-of-luck, too.
The Chef's Table experience was also an interesting one. My neck ached from talking to Elina the whole night, but that's what you sign up for when you take such a seat.
It was interesting to see what was going on, although much of the work in a fancy meal takes place during the preparation, anyway. And you spend the whole night not really knowing how much eye contact to make with the staff. We did have a nice chat with both Mark and Elizabeth, though.
All in all, we're giving the thumbs up to Home. A few people said "it's everything The Man Behind the Curtain should be" and we !00% agree with that assessment. At the time of writing, they have been added to the Michelin Guide but not given a star yet. That is something I hope the Michelin people will rectify sooner rather than later.
Reviewed by Leeds Restaurant Guide.
Address
16/17 Kirkgate, Leeds, LS1 6BY
More options
See more British reviews.