Ho's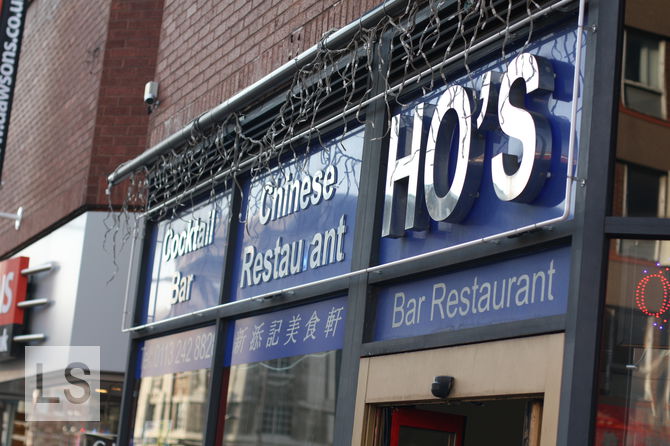 This restaurant has closed down.
Undecided about what we want to do for dinner on this particular Saturday night, we elect to wander through the rather small but nevertheless vibrant China Town area that Leeds enjoys, and pick out something that took our fancy. As it turns out, our fancy is taken by a place named Ho's Bar & Restaurant.
They graciously squeeze us in without a reservation, despite it being Chinese New Year the day after and as such, rather busy. Service is still sharp, though, and we have soon placed our orders from the menu that is in both English and Chinese. The fact we are surrounded by people speaking Chinese made us feel like we have made the right choice too.
The food is not entirely authentic, striking a decent balance between what we think Chinese food is and what Chinese food actually is (and I can tell you, there is a world of difference!). The ribs are up to scratch, and the duck is superb, lifting away from the skin (that was also delicious) and comes with the sweetest hoisin sauce I have ever tasted.
There is a slight mix up with my main arriving with the starters, and there is an interesting discussion when the waitress does not believe me that they have cranberry juice listed on their menu, but overall we are able to get a waiter as soon as we want one and we are not left sitting around after we ask for the bill. I will definitely eat here again.
Downstairs re-development
A few years ago, Ho's closed their downstairs bakery and moved the main restaurant to the ground floor.
We rocked up with six of us: four adults and two babies. They were happy to squeeze us in on a Friday night and even found space for the pram, too.
The waitresses were very friendly towards the children, entertaining them with them and even bringing out a toy for them to play with. The food has not suffered from the move, either. The toilets are still upstairs.
Cost
We like Ho's because the pricing is very reasonable. You can take a family out to dinner without burning a huge hole in your pocket.
If you're going for lunch, they offer set course lunch menus for £7 and £11 that are well worth taking advantage of.
Reviewed by Leeds Restaurant Guide.
Address
115 Vicar Ln, City Centre, Leeds LS1 6PJ
More options
See more Chinese reviews.