IT Bar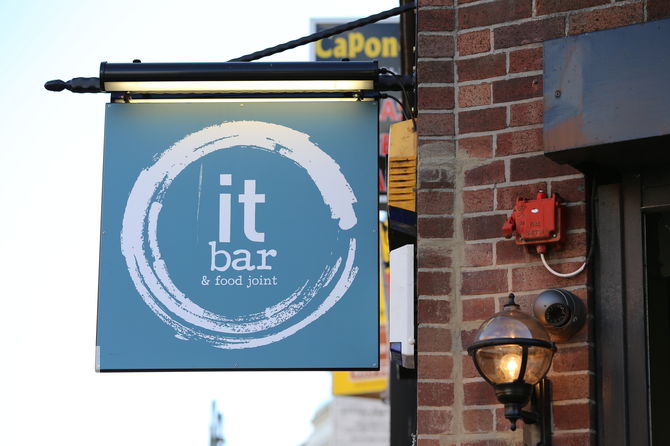 IT Bar offers food service throughout the day and drinking throughout the night. They offer a good range of cocktails, but none seem to be alcohol free and they use apostrophes in strange ways - their menu has "martini's" for example, rather than "martinis". The cassette tapes on the wall make for an interesting juxtaposition with the Spotify client on the computer.
I find the music is too loud for my taste and it sounds like the bass has been over-driven, but the atmosphere is otherwise pleasant and a member of staff helpfully explains that we should order at the bar when ready. The large print menus make it easy to read.
The food is great. My ribs do not possess the bold flavours that you will find elsewhere, but the meat does fall off the bone at the slightest touch. I'm less of a fan of the sweet potato fries that accompany it. Mostly however, I am looking in envy at Elina's gumbo that is hot, smokey and filled with meat. What more could you want in a dish?
They also offer a range of specials including some huge burgers that I look forward to trying. Their cheesecake of the day, which today was a New York style chocolate cheesecake, also pleased the tastebuds.
Reviewed by Leeds Restaurant Guide.
Address
57-59 New Briggate, Leeds, LS2 8JD
More options
See more American reviews.