Jamie's Italian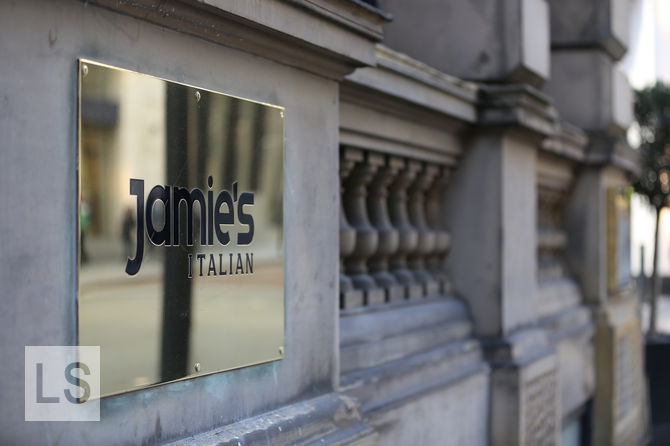 Having heard great things about Jamie's Italian, I decided to take Elina out for a romantic meal to celebrate her return home. There is no booking at the restaurant. You turn up and have to wait for a table. Upon arrival, we were handed an electronic buzzer (well, it does not really buzz, it is more of a vibrator, but you cannot use that word in a non-sexual context anymore) and shepherded to the bar to get a drink.
The bar was rather crowded with the amount of people in there and there was nowhere to put our coats. However, despite being told to expect a twenty to twenty five minute wait, a mere fifteen minutes later we were called to our table.
Service was prompt and food arrived quickly. This worked out well because I was rather hungry, but the whole experience did feel a bit rushed. Obviously they were trying to get people in and out so they could seat more customers, and almost every restaurant does it, but I like them to make the effort in pretending that that is not what they are doing.
The food itself was very enjoyable. I could not resist having the steak and it was expertly cooked. Not to the standard of a premium steak house, but certainly one of the better that you will find elsewhere. They had a superb array of choices for side salads too (i.e. they offer side salads that are not just a fancy word for a bowl of lettuce).
Jamie Oliver was not there to personally ask if everything was OK with our food.
Overall, it was a pleasant experience, the food was tasty and the service was OK. Given I have only heard raving reviews about it until now though, I am not convinced it quite lives up to its reputation, but it is worth visiting nonetheless.
Reviewed by Leeds Restaurant Guide.
Address
35 Park Row, Leeds LS1 5JL
More options
See more Italian reviews.