Miah's Kitchen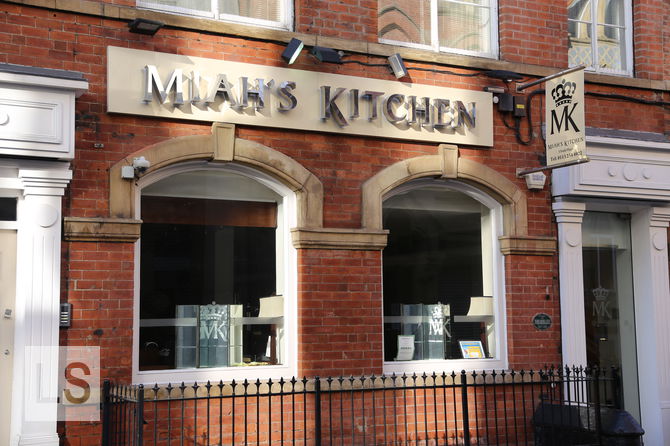 Taking advantage of the fact that we now work over the road from each other, myself and Elina headed down to Miah's Kitchen on York Place. We arrived to find that we were actually their only customers. This seems to be a pattern - they always seem to be quiet at lunch times but very busy in the evenings.
We are seated in the waiting area (seems strange given there was no one else in the restaurant) while they prepare a table, and they take our coats. Soon after, we are sitting in a nice private booth that even has a long candle in a glass candlestick holder. A nice touch, although it feels a little strange at this time of day.
I order the Tikka Surma - a curry prepared with honey, mustard and fresh cream. After filling up on papadums and some delightful chutneys, the food arrives and it is delicious. Often, Indian restaurants will present a long menu that is ultimately the same as any other, so having Miah's Dishes to pick from was fantastic.
I was also impressed by the portion sizes. Often, especially at Indian restaurants, there will be far more than I can actually eat and I will have to give up half way through. Miah's served the perfect amount - we only got one rice between us and it was just enough food, with a little left over at the end and us both full.
After the meal, we are presented with hot towels, and I do mean hot! They are so hot that you could actually see the steam radiating off them for the first minute. They also present us with chocolate mints and a shot a Baileys each.
Once we have paid, they help us on with our coats and send us on our way. Full and contented.
We have since been back. Many times. It has consistently been great. Once or twice it was a little slow. However, the food is always high quality and the staff are always friendly. Without a doubt, it is my favourite Indian in Leeds.
Beware that this applies to the York Place branch. There is another branch on Merrion Street that people speak less well of. I have never eaten in there. However, when I ordered takeaway from them, it took them an hour and a half, and several phone calls, to deliver.
Vegetarian options
Almost any dish can be done with mixed vegetables instead of meat, giving vegetarians an excellent range of choice.
Reviewed by Leeds Restaurant Guide.
Address
3 York Pl, Leeds LS1 2DR
More options
See more Indian reviews.