Midtown (The Marriott Hotel)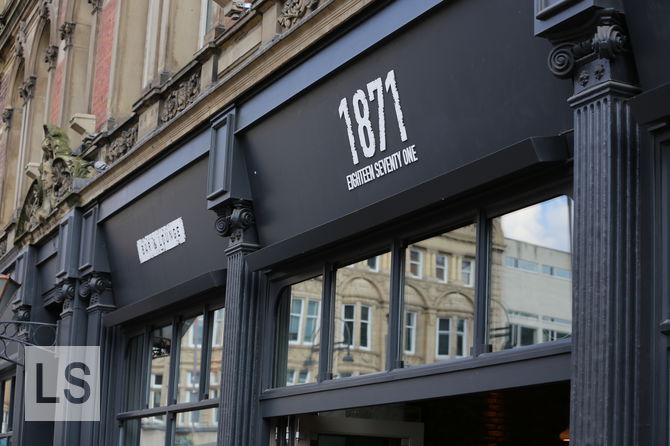 Arriving at Midtown, we are presented with some of the biggest menus I have ever seen. Not because of the amount of items on there, but because of the size and weight of them - they are housed in picture frames and are somewhere around 60-70cm long, making them so heavy that Elina struggles to lift it.
This is accompanied by one of the longest explanations I have ever heard, talking us through all the options of set menus, a la carte menus and side dishes. We also get a diagram of a cow to show where each of the cuts comes from. They offer steaks from both America and Yorkshire, as well as a range of other dishes.
I go for the rib eye cut and talk through the cooking options with the waiter, in the end deciding on medium rare. When it arrives it seems closer to medium, but is still full of flavour. Elina opts for the Dublin Bay prawns, which come with head, body and all - a fork to de-shell them certainly would not have gone amiss. They certainly passed muster on the taste test though, proving equally juicy and delicious as my steak.
After the meal we are given a miniature fire pot with flames shooting out the top, along with skewers, marshmallows and a bowl full of chocolate for a old fashioned camp fire roast. Probably the most novel thing I have seen in Leeds! In a piece of genius marketing, they also gave us a postcard about the restaurant, that we could fill in and they will post for free.
The food was not perfect. The steak was a little over done and the prawns were difficult to eat. But they were nevertheless very tasty and adding that on to the novelty of the experience and the helpful and reasonably fast service made for a highly enjoyable, if very expensive, meal.
Reviewed by Leeds Restaurant Guide.
Address
4, Trevelyan Square, Boar Ln, Leeds, West Yorkshire LS1 6ET
More options
See more Hotels & Casinos reviews.