Mumtaz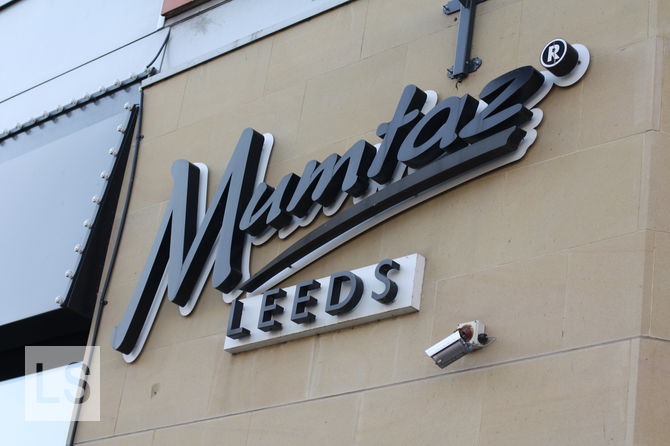 Mumtaz is located in the beautiful setting of Clarence Dock. You will find a decadently decorated restaurant whose waiting area is furnished with two large sofas and the biggest coffee table I have ever seen.
Mumtaz is alcohol free, they do not serve any pork, and the meat they do serve is Halal.
We are soon seated, having already eyed up the desserts as we walked to our table, and are placed next to the big windows looking over the dock. This provides a beautiful view, although it does make it feel a little cold.
We begin with the usual papadums and pickle tray, but I have to say I am not a big fan of either here. They offer slightly fancier papadums than your average restaurant, but I do not really feel it adds anything and their pickle tray is not particularly well thought through. They have tried to do something a little different again, with whole olives and big slices of onion included, but these are actually highly impractical to eat on a papadum - a tray of sauce works far better in my humble opinion.
The main dishes are reasonably tasty, but two of us both independently came to the same conclusion that they were too hot to be correctly classified as medium. There was a lack of selection - they did not seem to serve many of the standard options you would expect - so mostly it was a choice between chicken, lamb or prawn, which is rather limited. The strawberry cheesecake did make for a very nice dessert.
Paying seemed quite an ordeal. Rather than having you pay at the table, they bring your bill to the table and you then have to take this to the counter and pay. It is not clear exactly where the counter is and even once I had found it, I was half way through paying when the man serving me decided to take a phone call instead and then spent several minutes ignoring me while he spoke on the phone.
Another problem I had with the restaurant was how expensive it was. There were only three of us, who had a main course, no starters and only one dessert between all of us, and obviously we were all on soft drinks (in fact, one of us only had water), yet the total bill still came to over £50.
Overall, given that the food was fairly disappointing, the selection of both food and drink limited, and that the cost was high, I do not think we will be returning here again in a hurry.
What our friends say
Christos cannot believe I do not like Mumtaz. He thinks it is the best Indian in Leeds.
Reviewed by Leeds Restaurant Guide.
Address
Unit 1 and 2 Mackenzie House, Chadwick St, Leeds LS10 1PJ
More options
See more Indian reviews.