NY Burger Kitchen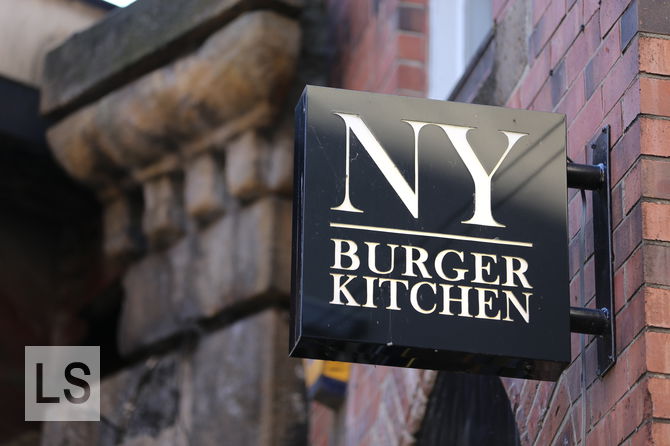 This restaurant has closed down.
Located in Brooklyn Bar, where First Floor Grill used to be, NY Burger Kitchen wins some immediate points by adding a question mark to the end of its slogan. "Leeds best burger?" - I like a reasonably level of modesty in a restaurant.
We order at the bar and our eyes are caught by the TV on the wall showing The Food Channel. Perhaps we should avert our gaze before our stomachs get too annoyed. 24 minutes later our food arrives. Everything is correct and the napkins even have little stickers on them to keep them wrapped round the cutlery which is a nice alternative to the usual moistening.
The burgers were juicy and, most impressively the bread bun maintains the most incredible structural integrity I have ever seen. It didn't fall apart, right down to the last bite. The curly fries were a nice addition too.
My one criticism is that the menu said all burgers would be cooked to medium as standard but as far as I could tell with the available light, they were both well done. We were happy enough anyway though. Overall, NY Burger Kitchen might not quite be the best burger I have had in Leeds, but it is certainly not a bad effort.
Reviewed by Leeds Restaurant Guide.
Address
50 Call Lane, Leeds, LS1 6DT
More options
See more American reviews.