Pintura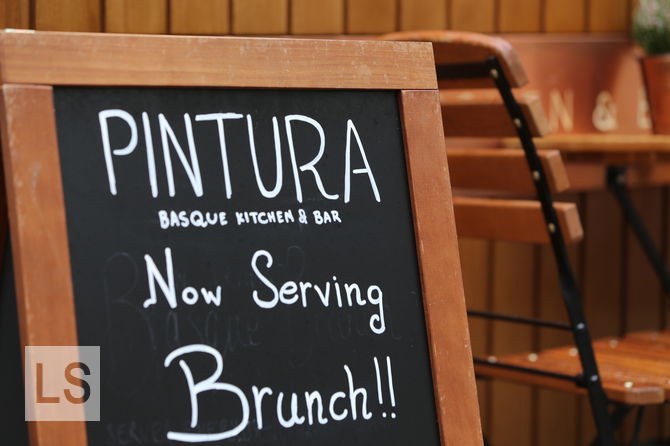 This restaurant has closed down.
Set back from the street leading out of the back of Trinity, Pintura is an easy restaurant to miss. It appears to be much-loved already. We visit on a Saturday lunch time and find the only seats available are the ones at the bar.
By bar, I also mean the kitchen. We are sitting so close that I could easily reach over and mess with the food. I refrain from doing so, because I am an adult, but it is an interesting experience.
Everyone in the restaurant is super-friendly. Our waitress talks us through the specials and her favourite dishes on the menu. I get the sense that she is really passionate about her work, and possibly that she only took a job here to cut down on the amount of money she was spending as a customer.
Another waitress sees my Moomin shirt and asks if we are Finnish. She tells us she is learning Finnish and decides to test mine. I have to ask her to repeat "mina rakastan sinua", not because I did not hear her but because I did not really believe "I love you" is the first thing you would say to a customer. After this she spends the rest of our time there yelling random Finnish words at Elina every time she walks past.
We are offered tap water without prompting. They have a selection of juices, but no alcohol free cocktails.
We start with the roast giant corn. It is strangely moorish. Even though I am not sure I like it, I keep eating. The chorizo comes with three whole chorizo sausages. It is way too much; I would have preferred less. Elina describes the octopus as some of the nicest she has had and the gambas scores big points too. The fabada, a special, which is a kind of stew is a good filler dish.
The star of the show is the pluma. It is pork, but because it is the working shoulder muscle of the pig it is a red meat (apparently) that can be cooked to medium safely and marbles beautifully. It really is delicious, in the true meaning of the world. It is also nearly £10 just for the single dish though, and Elina is less impressed. The food turns up quickly, but in a random order. This is an endemic problem with tapas and certainly not specific to Pintura. It is still annoying though.
Finally, we sample the desserts. I have the chocolate mousse. It comes in a plant pot covered in edible soil. This looks impressive, but results in the soil going everywhere.
Pintura was hands down the best tapas we have had in Leeds. My only reservation is we spent over £60 on a single lunch. However, if it continues to perform at this level, we will be hard-pressed not to give it a full five stars.
Reviewed by Leeds Restaurant Guide.
Address
1 Trinity Steet, Leeds, LS1 6AP
More options
See more Latin reviews.