Red's True Barbecue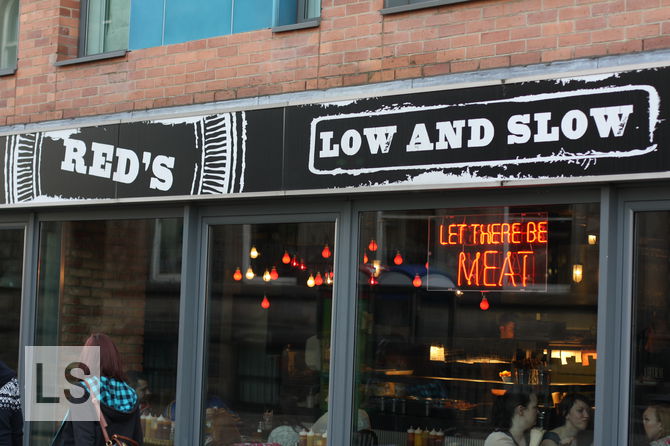 Since we moved into the area, Cattle Grid had opened a steak restaurant, Rib Shakk had opened in the basement of the Corn Exchange and now Red's True Barbecue has opened. Basically, a Ribs Quarter formed around us. To be honest, we were surprised that it took so long.
Having only recently opened, it was going to be busy, so we headed down earlier in the day to reserve a table. They said that they close the whole kitchen down between 4pm-5pm, so just come back at 5pm and the place would be empty. We came back at 5pm, to find the place full. Once we explained the situation, they remembered they had told us that, and found us a table.
That said, it felt like we had been given the worst table in the house. It was somewhat in the way, and being so close to the door, it caused an awful draft every time it was opened which meant Elina was very cold - although to be fair, we did not ask for a new table to resolve it, though in part due to the condescending attitude I felt we had received for not having our name down (even though we were told to just turn up).
We ordered the "Bucket o Bones", which was exactly what it says on the not-so-metaphorical tin. It was literally a bucket of different ribs. There was an insane amount of meat, I don't think I even got through half of the rib meat. Unfortunately, eating them on the size of table we had proved extremely difficult, so we ended up having to empty out our buckets onto our trays and put the buckets on the floor.
Elina enjoyed the ribs a lot but I have to say I was not a fan of them. When it said it was a barbecue restaurant, I presumed that meant I would get ribs covered in barbecue sauce, but it actually seems to mean that you get ribs served as if they would be from an English barbecue - burnt.
After we had finished eating, they eventually came to clear everything away, and did package up my leftover ribs into a box for me to take home. However, they also cleared away Elina's lemonade before she had chance to finish it. All in all, from finishing eating to finally getting to pay took 35 minutes, which was irritating but also did not really make sense - they were talking about how they were fully booked, had lots of waitresses just standing around, and yet had us waiting for so long. They also stood there watching as Elina had to select whether to add a gratuity to her card payment which I always find uncomfortable. I will leave a tip in cash so I know it is actually going to the staff, but having them watch you select yes or no drives me crazy.
On my second visit to Red's, things do not improve much. Once seated, it takes a further 17 minutes for them to even take our order and a further 28 minutes for the food to arrive. That gives us some time to muse on how odd it is that there was so much blasphemy, yet the chicken they serve is Halal. What is the point of that in a pork restaurant?
Elina's ribs are dry and as for my pit burger, I am not sure why it was served in bread because it is too big to eat, and just falls apart when you try. The pulled pork is tasty but the burgers suffer from the same dryness that the ribs do.
The staff are at least friendlier this time though, so that is one plus point I can give them.
Ultimately, I was not impressed. While they certainly do offer a lot of meat, you would expect that for the price tag and with Cattle Grid round the corner offering a full rack of £10 at time of writing, I do not know why I would want to pay more than twice that for an experience that does not match up.
What our friends say
The opinions on Red's are very polarised. Christos has tried it twice and been disappointed both times. James had had one good visit, one disappointing one. Norman said the food varies but the service is always poor. Tom, who has only been once, really rated it highly though.
Reviewed by Leeds Restaurant Guide.
Address
1 Cloth Hall St, Leeds, Yorkshire LS1 2HD
More options
See more American reviews.