Revolucion de Cuba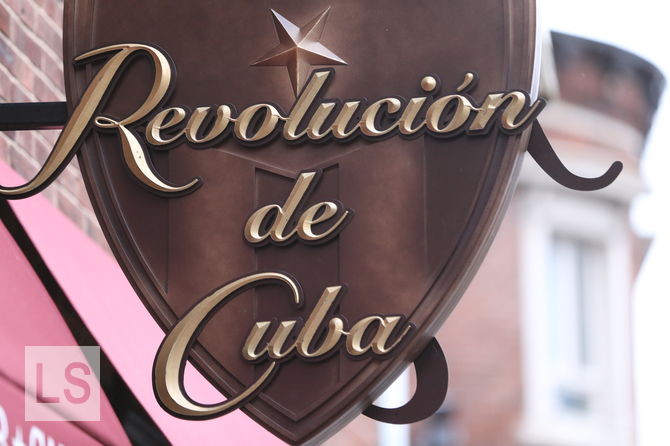 As we approach Revolucion de Cuba a woman standing outside gives us a flyer to try and tempt us in. Then there is an embarrassed bit when she realises we were going in anyway, before taking us inside herself and finding us a table. How British, ironically.
Things start well with a round of alcohol free cocktails. I have an apple an strawberry mohito and Elina has an almond and citrus drink that tastes of marzipan. The menus are printed like a newspaper and show significant attention to detail.
As we sit down we joke about somebody tuning up a guitar. Every time I have walked past I have seen someone tuning up a guitar, but never actually playing. As it happens, this time they do play.
We order tapas but our waitress soon returns to tell us they have run out of one dish. I choose something else. When the food turns up, instead of the calamari we ordered we get gambas. This was Elina's other choice, so she decides not to complain. The meatballs come in a rich, spicy sauce, but without a spoon.
Our pork skewers turn up covered in onion. This seems odd because we had asked for Elina's main to be onion free. We had even clarified this was an allergy. If I was a waiter, I would have then pointed out that the tapas dishes are covered in onion, but no such warning was given.
My main is a burrito. It is large, but has almost no flavour. The beef tastes like meat that has been stewed to death. It comes with equally tasteless tortilla chips. Elina cannot help me finish it because there is onion on everything.
Elina is given regular fries instead of sweet potato fries. She moans about the amount of salt on them. This is a girl who likes to eat salt with a spoon. I do not know how you over-salt fries.
I have to ask twice for tap water. It takes a while to get the bill. When it does arrive, I have to have it corrected as it includes a sweet potato upgrade. Other people look bored. The couple next to us get up and walk out without even ordering.
While I am glad they accept my American Express, I do not feel it fits within the theme of Cuban independence. The Americanism of labelling the bathrooms as 'restrooms' seems to contradict Cuba's free spirit also.
In summary, we found the service slow and the food tasteless. Dietary requirements seemed to receive little attention. It was a horrible experience and one that I have no plans to repeat.
Reviewed by Leeds Restaurant Guide.
Address
64-68 Call Lane, Leeds, LS1 6DT
More options
See more Latin reviews.