Roast and Conch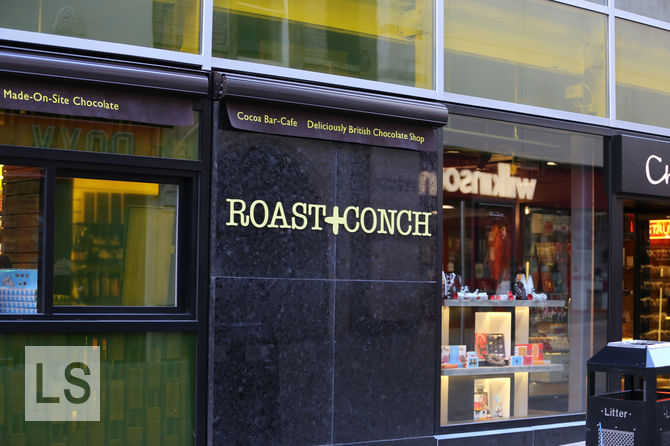 This restaurant has closed down.
I have to confess that Hotel Chocolat is not my favourite chocolate shop in Leeds. But that is no insult in a city that has Bon Bon's and Charbonnel & Walker. Still, when I found out that Hotel Chocolat were opening a chocolate-themed restaurant, I was very much intrigued.
The restaurant sits above the shop. As we enter, a member of staff leads us up a beautiful wooden staircase that, oddly, is enclosed by walls of chipboard. The floor to ceiling windows offer a view into Yates's. There is a great deal of staff available, all of whom are very polite and friendly.
To nibble on, each place has some cocoa beans in a bowl. A nice touch though surprisingly difficult to get into. I start with the Yorkshire pudding with pulled pork. I would describe it as tiny by tasty. Not quite as good as my home-made ones, but as a Yorkshireman I have a genetic ability to make great Yorkshires of course (or just "puddings" as we call them here).
My main is of a similar standard. The lamb pepperpot has just the right amount of seasoning and the lamb is so tender you could eat it with a spoon. It comes with a twisted bread stick. This is a bread stick on a stick, and it is just stupid, because I found it impossible to get off the damn thing. Elina's fish roti comes in a beautiful sauce and has an excellent texture.
The food portions are on the small side but taste excellent. Service is good and our table water is refilled automatically without us having to ask. I am not sold on adding chocolate to everything, but I am reasonably well sold on Roast + Conch.
Reviewed by Leeds Restaurant Guide.
Address
55 Boar Lane, Leeds, LS1 5EL
More options
See more International reviews.