Saengarun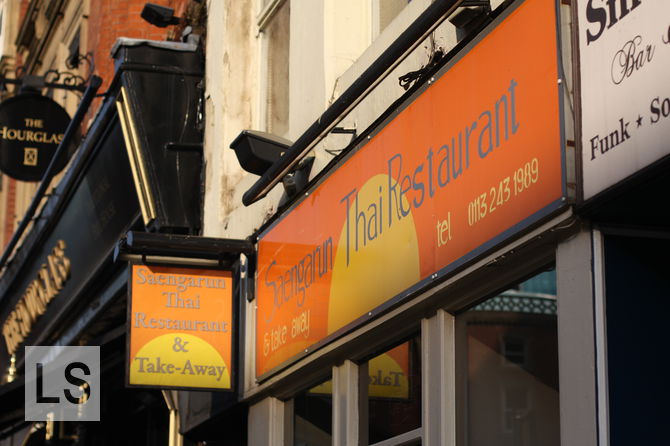 This restaurant has closed down.
A lot of the Thai restaurants in Leeds are staffed by native Thai people, so I was somewhat surprised when, on phoning up, I was greeted by a strong Home Counties British accent. Two minutes later and dinner was booked.
Saengarun is a small restaurant located on Lower Briggate, just below Smoke Shack. Its decor certainly is not up to the standard of Thai Edge or Chaophraya, but that is not what we are there for. As their website says "not the finest decorated restaurant in Leeds, but we do serve the best and most authentic tasting Thai food available outside of Thailand!"
The food itself was prompt, arriving in under 15 minutes. I have never been to Thailand yet, so I am hesitant to say it tasted authentic, but I would go as far as to claim that it did taste like what I imagine authentic Thai food to taste like. In any case, it was thoroughly enjoyable.
As with most restaurants though perhaps here even more than usual, the size of the rice portion was so massive that even sharing one between two of us left us unable to finish it. The complimentary crackers had a bit of a spicy kick to them too.
Overall, it was an enjoyable meal and one we will be going back to.
Reviewed by Leeds Restaurant Guide.
Address
159 Briggate, Leeds LS1 6LY, Yorkshire LS1 6LY
More options
See more Thai reviews.