Sandinista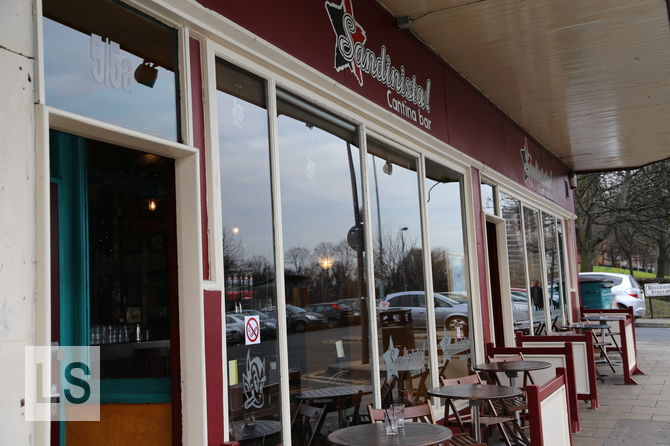 This restaurant has closed down.
Sitting on the edge of town, round a corner you would never normally think to turn, is located a delightful bar slash restaurant named Sandinista. It is not the most well-furnished place in the world, but does come with a welcoming atmosphere and The Walkmen playing on the jukebox.
Their tapas menu is laid out on a single A3 sheet, containing appetisers, mains and desserts. We decide to go for the king prawns, the pulled pork, the calamari and the chicken skewers. It all arrives quite quickly and we are left with a menu in case we want to add more dishes later – it is a build-your-dinner as you go experience.
The squid ink rice comes up as our favourite, although the chicken in a tomato and garlic sauce is not too far behind. None of the dishes are a disappointment. My only slight complaint is I would have liked to sink my teeth into something a little meatier, but we both leave comfortably full.
Sandinista is a cool place to eat at – the food is tasty, the staff are friendly and the music is great.
Reviewed by Leeds Restaurant Guide.
Address
5-5A Cross Belgrave St, Leeds, West Yorkshire LS2 8JP
More options
See more Latin reviews.