Smoke Barbecue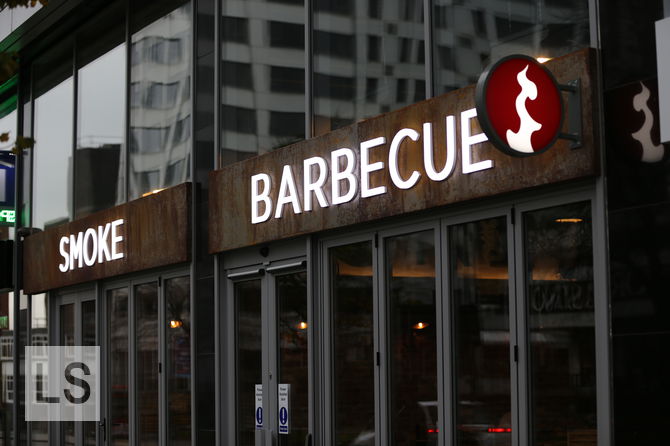 This restaurant has closed down.
Smoke is a BBQ restaurant in the arena quarter. We turn up for lunch on a Sunday afternoon. They have an open kitchen at the bottom of the restaurant that features a large circular grill. It reminds me of the German Christmas market grill, but bigger.
Ordering drinks proves a little confusing. I first order a milkshake but apparently it is too early for ice cream. I look at the juices and see "pineapple & tomato juice". Is that the same juice? I am told not. That would have been a sensible place for an Oxford comma, in my opinion.
When my drink does turn up, it arrives in a jam jar with a handle. What is the point of this? If it was a jam jar you were re-purposing you could argue it was fun. However, this has as handle. I can only conclude it is designed to be a hipster product. I do approve of labelling the toilet "loo" though.
We order the sharer platter. It is £30 and comes with chips and a side. I order the pit beans as the side. It turns up quickly and turns out to be massive. We end up taking half of it home.
The food itself is disappointing. The chicken has a good smokey flavour but I feel the marinade fails to penetrate the large turkey leg. This results in a bland flavour for most of it. The ribs are incredibly hard work to tear from the bone. The sausage is incredibly dense. The pit beans need a serving spoon and taste crunchy.
The own-brand sauce feels unjustifiably sticky given we appear to be their first customers of the day.
You get a lot of meat, but I did not enjoy a lot of it. I think if I were to go again I would have the chicken as that was my favourite part. The rest feels hit and miss.
Reviewed by Leeds Restaurant Guide.
Address
Unit 6, Merrion Centre, 11 Merrion way, Arena Quarter, Leeds, LS2 8BT
More options
See more American reviews.