Thai Cottage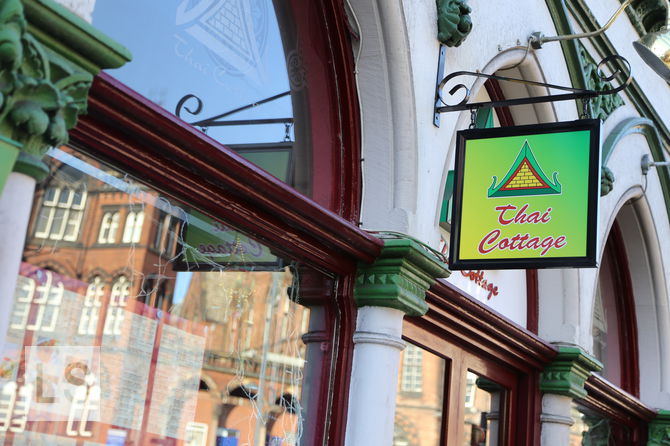 Hidden away in the back streets, around the hospital and the town hall lies a small shop front. In its window sits a section called "this month's reviews". They are all raving about the place. It is, as I am sure you have guessed from the title of this review, Thai Cottage.
Leeds has quite a number of Thai restaurants, and they are all excellent. So having headed out to Thai Cottage we were hoping they would match the standards already set down. We were soon seated at a table and had our drinks orders taken. The ordering process was smooth and easy.
What I love about Thai food is that pretty much everything is edible. I was not too sure what some of the items on the mixed starter even were, but it does not really matter when you know you can eat it. The level of detail was great too. The centrepiece was a vegetable hand carved into a flower. I had the moo yang for a main which arrived appropriately sizzling.
The food was delicious, but I felt the dining experience let it down a little. We had been meaning to go for quite a while, but they do not open on Sunday, which always seemed to be the day we thought about going. Secondly, they do not have a dessert menu. Thirdly, paying was not too straight forward either. We had to go find someone to get the bill (even though they had cleared everything off our table) and they did not accept card payments (luckily I had some cash on me, but normally I would not have because it is 2012 and everywhere in the world takes card) so we had to pay with cash.
Since the writing of this review, they have since begun accepting card payments.
Reviewed by Leeds Restaurant Guide.
Address
39 Great George St, City Centre, Leeds LS1 3BB
More options
See more Thai reviews.