The Foundry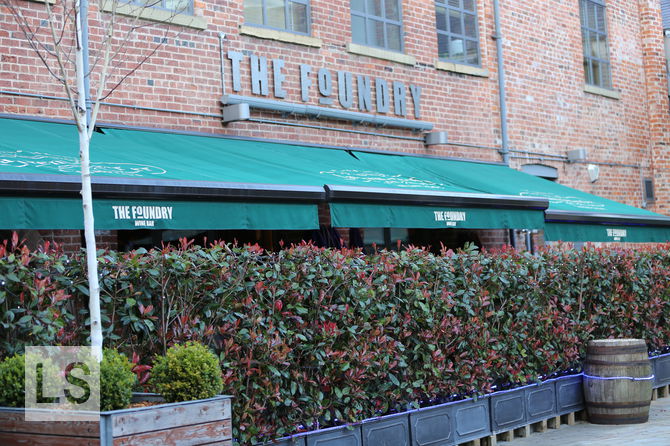 Believe it or not, The Foundry used to be a foundry. Now it is a restaurant. Hidden away at the southern edge of the city centre, we walk in to find a well-furnished restaurant with solid wooden furniture, exposed brick walls and large windows. It possesses a small and intimate atmosphere.
They offer a small but surprisingly extensive menu of traditional British dishes. Having mulled over the options with some bread and olives, the food arrives quickly and Elina is quickly rewarded in her decision to go with the shoulder of lamb - containing plenty of flavour on its own, and sitting in a beautiful gravy, it also comes with mint and redcurrant sauces on the side.
Her dish is still utterly outshined by my roast chicken breast. It has a crispy skin and moist body, drowned in an amazing sauce. Every morsel gets consumed and we are so anxious not to waste the sauces, we end up having some of the redcurrant jelly straight out of the jug.
For dessert, I opt for the chocolate terrine, which delivers to an equally pleasurable standard, and despite being utterly full by this point, I cannot resist helping Elina out with her blueberry ice cream either.
If I have any criticisms of The Foundry, it is that it is quite hard to find, and nobody asked us how our meal was. This was a shame as I had prepared a number of colourful adjectives to use as compliments, but would have been more of an issue if there had been a problem and we had been too British to complain.
As it was though, no such impediments existed. The food was delightful, the staff were welcoming and attentive, and all in all, I can only describe this as the best British food I have had in Leeds.
Reviewed by Leeds Restaurant Guide.
Address
1 Saw Mill St, Holbeck, Leeds, West Yorkshire LS11 5WH
More options
See more British reviews.