The Man Behind The Curtain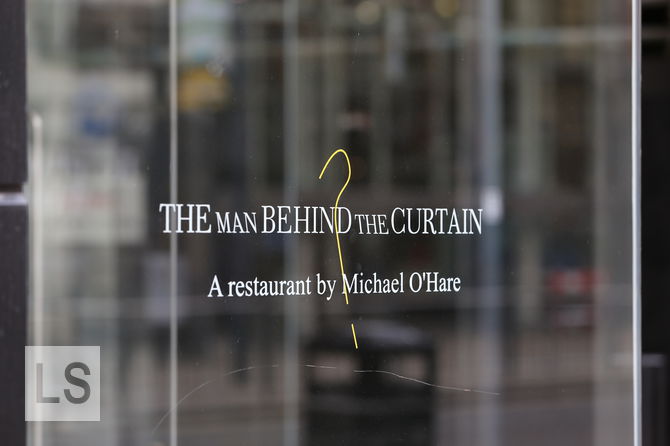 It is not often that my gran tells me about a new restaurant in Leeds. Understandably, it is quite embarrassing when it happens. Which it did, when it comes to The Man Behind The Curtain, a restaurant by Michael O'Hare.
As you can imagine, a restaurant with someone's name on, is quite a fancy place. As the latest addition to the "fine dining" category of Leeds, it is impossible not to make comparisons with the ill-fated Anthony's. It is certainly an improvement. They have not located it in a basement, nor have they then decorated that basement in a clinical manner for example. They open for dinner Wednesday to Saturday and to book I have to put a £40 deposit down.
It is located above Flannels clothing store and you enter by going through the stop. A man greets us on the door and checks my name off on a list. We then proceed up to the top floor where we are greeted and shown to the bar area.
They have no soft drinks. Like almost none. I had seen on their website that they had an accompanying juice and soda pairing as an alternative to wine. However, I am told that was on their previous menu, but they do have dandelion and burdock and ginger beer and things like that. By "things like that" it turns out that they have those, and water.
They offer a single nine-course tasting menu, but do cater for dietary requirements if advised in advance. They also bring us four snacks beforehand, meaning that we eat a total of 13 different courses by the time the evening ends.
My enjoyment varies course to course. The tuna, the hake, the pork and the sirloin are all winners with me, the lamb less so. Serving a mackerel ball seems a bold choice when people are trying to have a romantic night out, but the coffee calms the flavour.
Great attention to detail has been taken with the restaurant. The chairs are comfortable, and silent to move around. The walls are decorated with graffiti artwork that a psychologist would have a field day with. The waiters are uniformly dressed in black and all look well groomed. The plates vary with each course.
In a bizarre twist, cutlery is presented in a branded box. However, for a reason that never becomes clear, they are constantly removing and replacing the box without explanation. This could happen several times between courses.
The whole experience takes three hours with what feels like some long gaps between courses. Each course is small so we leave pleasantly full rather than uncomfortably stuffed. Finding a waiter to pay proved a bit of a challenge however.
It is clearly an excellent restaurant. The food is superb and the attention to detail is clear. However, when it comes to settling on a rating, I have to ask myself "do I want to go back to a restaurant that I have to invest £65 and three hours of my life in when they stock such a limited range of soft drinks?" The answer is no.
Reviewed by Leeds Restaurant Guide.
Address
68-78 Vicar Lane, Leeds, LS1 7JH
More options
See more International reviews.