Urban Turka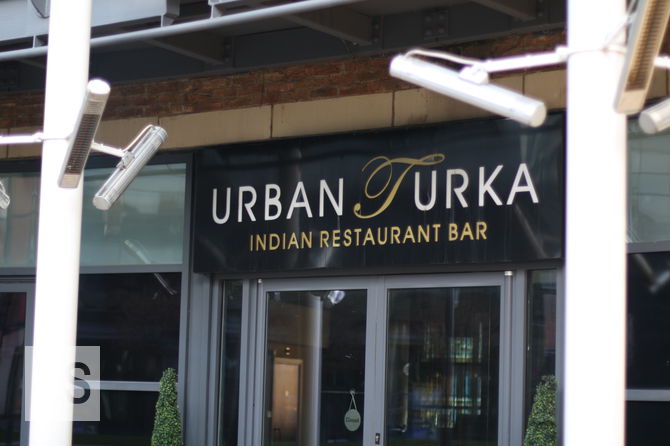 This restaurant has closed down.
If Urban Turka is trying to build a reputation for being a hidden secret, it seems to be doing quite well. I live round the corner from it, and didn't even know it was there until a friend pointed it out to me. I do not seem to be the only one - there were only two other tables occupied in the twenty to thirty table restaurant, and it seems that is a common experience.
That is true of many restaurants in Leeds though, lots of which are excellent. When we arrived, we were shown to a booth at the far side, offering a gorgeous view overlooking the canal. The place was well-furnished and had some beautiful candle sticks lining the sides of the restaurant, albeit not lit.
We started with papadums, which they charge for, but they were upfront about it, which is fine. The papadums tasted flavourless and dry though. I found this surprising as I have never experienced a difference in the quality of a papadum - they usually all taste the same.
The pickle tray was disappointing too. Two of the pots were chopped onion and chopped onion in salsa, so both off the menu for Elina, and not that nice anyway, meaning the sweet curry one ran out. I do not think I have ever run out of a sauce on my papadums before.
The mains were a slight improvement. I would describe the dopiaza as average, with the rice scoring a little higher. We went for the prawn and spring onion rice, so that is to be expected. Elina's lamb was also a little disappointing, although the sauce made up for it.
We finished off with an ice cream, served with slices of mango and another fruit and well presented.
It is a beautiful restaurant, with an amazing view and the service was agreeable too - helpful, on time and easy to get hold of when you needed it. Unfortunately, the food was quite a let down.
Reviewed by Leeds Restaurant Guide.
Address
4 Brewery Pl, Leeds, West Yorkshire LS10 1NE
More options
See more Indian reviews.