Zaap Thai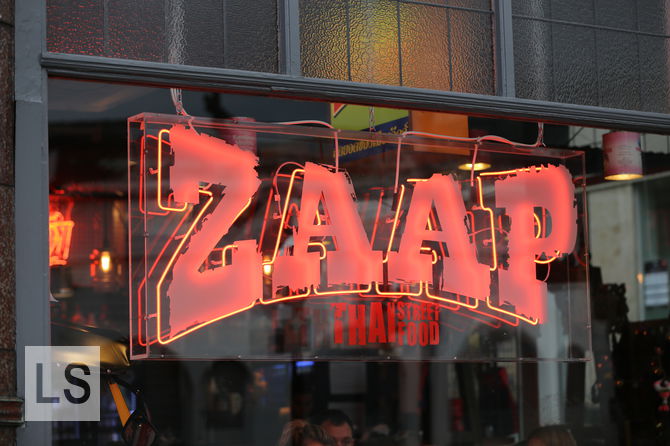 Zaap Thai is a street-food themed Thai restaurant. The inside is presumably decorated to look like a busy street. There are signs hanging from the roof and the walls. There is lots of clutter everywhere. The tables are close together. There is even a toy flying pig suspended from the ceiling. The welcome sign is in both English and Chinese; most of the other signs are in Thai.
Elina orders a 'green tea bubble tea'. It comes in a jar with no handle. The no handle is important because it shows they have re-purposed a jar, not gone out and bought a specifically hipster product. It comes with a big straw, as it should. The menu sticks to the table a little. It assures me I can adjust the spice level, and I can, a bit. I ask for mine mild and the waitress says she can do down to 'medium spicy'. I think I am in some kind of negotiation.
I start with the fish cakes. They are moist and doughy, which works well. Elina has the deep fried okra which tastes good but has the habit of coming out of the batter as soon as you bite into it. The pork in red curry and the massaman curry both do well also.
There were lots of staff around so it was easy to get more drinks and the bill. Given how busy it is, and how hard the furnishings are, the noise level is an issue. It would be difficult to hold a conversation in a larger group. For the two of us however, it was fine.
Reviewed by Leeds Restaurant Guide.
Address
22 Grand Arcade, Leeds, LS1 6PG
More options
See more Thai reviews.