Archie's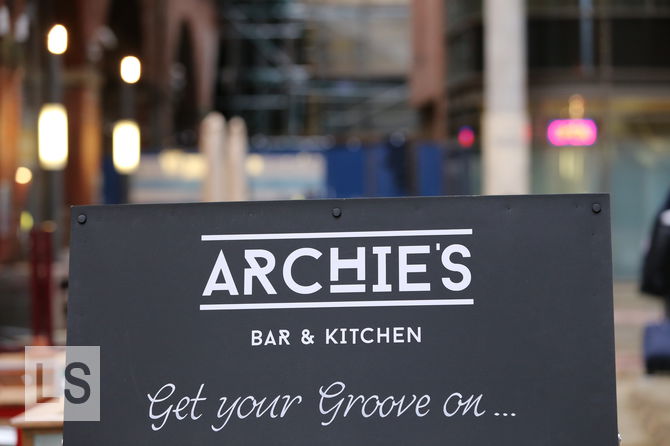 Archie's Bar and Kitchen is located in the Dark Arches. You might be able to work out what they have done there, with the name. It has large windows in the front and some smaller windows looking into the car park at the back. Inside it is well decorated with wooden panelling and comfortable benches.
The bathroom is small but well decorated. There is no mirror. It just says "don't worry - you look great". This sounds funny, but is actually really annoying when you want a mirror. Being directly under the train tracks they suffer from the rumbling overhead.
We order at the bar, though they also do table service. I help myself to a cocktail umbrella to decorate my juice. Cutlery is provided in little envelopes containing a napkin, a knife and a fork.
I order the burger. The meat is beautifully seasoned, resulting in a lovely taste. It is slightly too big to eat, so I resort to disassembling it. The bread bun is tasty and holds together well. It also comes with home made ketchup, coleslaw and chunky chips.
A bar under the arches is not a place I expected to find an excellent burger. Credit is due to them, it outshines other pub burgers.
Reviewed by Leeds Restaurant Guide.
Address
Arches V & W, The Dark Arches, Granary Wharf, Leeds, LS1 4BR
More options
See more Pub Grub reviews.