Cote Brasserie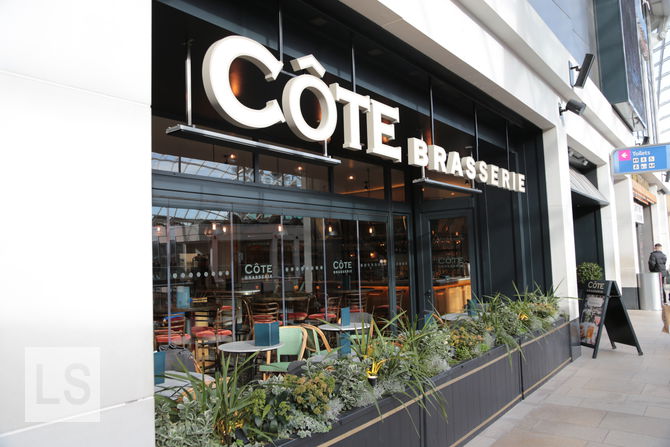 Parents with too much money, like me, we're understandably heartbroken when Mamma's & Pappa's closed down. All was not lost, though, as its place was taken by a new French eatery.
With plush decor and mirrors on the ceiling (albeit ones that could use a polish), Cote Brasserie is located on the top floor of Trinity and has both inside and outside seating, the latter complete with blankets for every other chair.
Prices are reasonable. They do a £12 and a £16 set menu. This reminds me of the Latin quarter in Paris, located just the other side of the Senn from the Cathédrale Notre-Dame. It is the best place to eat in Paris on a budget.
We order a la carte. The food is a mix of traditional French and specifically Breton dishes.
Elina fairs well with her Breton fish stew. It's packed with a range of seafood in a rich tomato sauce that is easy to mop up with the accompanying bread.
The confit duck shines less bright. The duck is not tender. But the red wine sauce repairs much of the damage and leaves me scraping it off the plate. The salad proves that all vinaigrettes are not equal.
We share the profiteroles for dessert. That might sound like a boring choice, but in a world of profiteroles filled with cream, those with real ice cream inside are not to be passed up lightly.
The large windows are a welcome addition, mainly as so many French restaurants in Leeds locate themselves in a basement. But it can be a little bright when the sun is low. Larger tables would be a welcome alternation, too.
Cote Brasserie doesn't shine quite as brightly as our favourite French restaurants in Leeds. But it does offer tasty and well-presented food at a reasonable price.
Reviewed by Leeds Restaurant Guide.
Address
Trinity Leeds, 14 Albion Steet, Leeds, LS1 5AY
More options
See more French reviews.