Griffin Hotel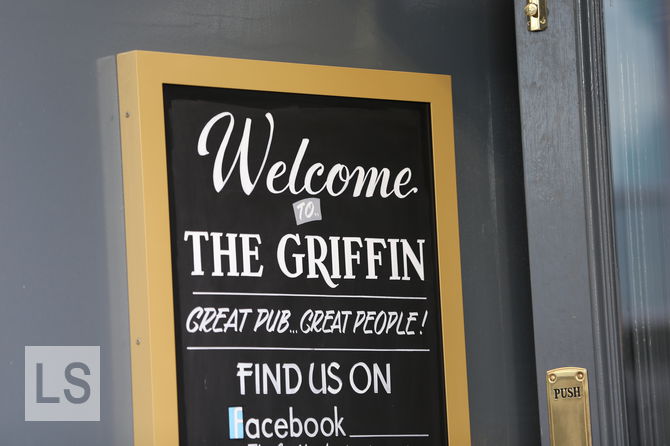 Being so close to the train station, The Griffin Hotel face a problem many such pubs do. That is that you can walk in on a Saturday morning and if there is a Leeds United game on, it will be full of people drinking. Luckily, it is big enough that we are able to get a room to ourselves somewhere in the back.
Half way through our meal our privacy is disturbed when another group enters and sits down. They begin to have a conversation in Swedish, assuming that neither myself nor Elina can understand it. Unfortunately for them, they are wrong.
There are plenty of bar staff on and are quick to serve us, despite being reasonably busy. The decor is a little strange. The tiles on the wall turn out to be a bevelled wallpaper. There are London Underground decorations on the walls. Annoyingly, the menus are sticky.
We settle on the burgers. Both come in wooden dog-bowl style plates. Elina's beetroot burger is okay, though lacks structural integrity. The bacon outshines the other ingredients in mine. Their Big Mac-style sauce is good too. It is expensive for pub food, so for the price I think you can get better elsewhere.
Reviewed by Leeds Restaurant Guide.
Address
Boar Lane, Leeds, LS1 5DF
More options
See more Pub Grub reviews.