Kendells Bistro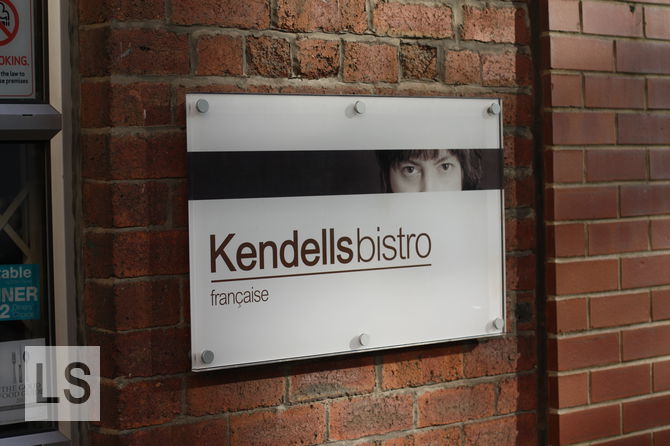 I am sure they are missing an apostrophe. On their website, they have a personal letter from Steve Kendell, meaning that the restaurant also certainly belongs to Kendell himself. However, they do not call themselves Kendell's Bistro. Anyway, I am not here to be picky about spelling. Kendells Bistro is a French restaurant located just opposite Leeds College of Music on the east side of town.
We arrive and we are taken straight to our table. It is nicely laid out, with a candle in a wine bottle, covered in wax to the level where you assume it is some kind of art rather than them just not having changed them it in a while. It is a small table though and they are packed in rather tightly, so you do not have a lot of room.
The waiter explains that because they change the menu every day, they write it on the blackboards instead of having them printed. This is fine, except that it is hard to see it from where you are sitting, so you have to go over to the boards to look. This is a bit cramped given how close the tables are together, and then you have to try and remember what it is you want while you go back to your table to place your order.
Our waiter goes on to explain that there is a £25 three course meal with a half of a bottle of wine offer, though when we ask if we can trade the wine for soft drinks he says we cannot. However, after studying the menu boards we discover that you actually can buy the three course meal without the half bottle of wine. Maybe it was just a misunderstanding and he thought we were asking if we could pay £25 and get other drinks, though it seems strange he did not mention this when we asked about not having the wine. Luckily, we are able to cancel the bottle of wine we have ordered and downgrade to the three courses on their own.
The food is served up reasonably promptly. I went for the French onion soup, which I will give it to them, is a unique twist on the traditional way to make it. To be honest, I would have preferred the traditional way, as there was not much soup and a little too much dressing for my liking. Although maybe I am just looking enviously at the bacon salad that my father has ordered and regretting my decision.
For the main course, I went for the duck, which was tenderly cooked and well dressed with salad and new potatoes which were excellent too. I finished the meal off with a chocolate pot that was served in an espresso cup. This was actually an ample portion size, allowing me to finish it without exploding.
Service was, on the whole, OK. The start was a bit shaky, and we were given raffle tickets to retrieve our coats, one of which I had to salvage from the floor. I'm not sure what would have happened if I had not noticed it had been dropped. However, the staff were attentive and when we wanted to get the bill there were so many of them all I had to do was to make eye contact with the maître d'.
It was a pleasing meal, but there are some excellent French restaurants in Leeds, and given they all run a similar £25 dinner and drinks offer, for my money there is better value to be found elsewhere.
Reviewed by Leeds Restaurant Guide.
Address
3 St Peter's Square, Leeds, West Yorkshire LS9 8AH
More options
See more French reviews.