Stonegate Pubs (Queens Court, Horse & Trumpet, The Hourglass, The Merchant)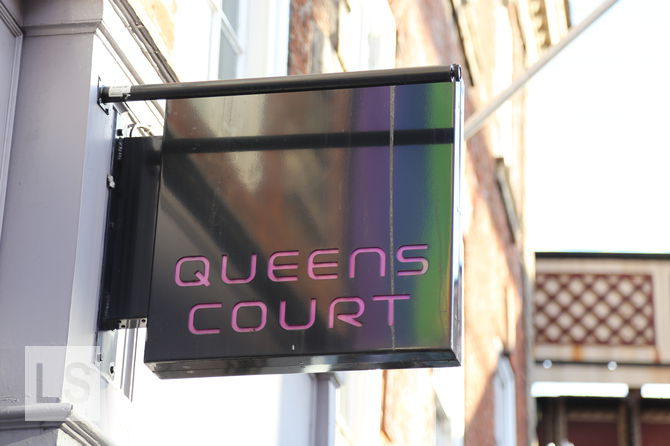 Queens Court is considered by many to the be the centre point of the Leeds Gay Quarter. They offer plenty of space, food served all day and a relaxed atmosphere. It is very much a Yorkshire venue - the barman added "love" to the end of every sentence.
There was a minor panic when we found out they had no noodles, but we had soon ordered and sat down in some very comfy arm chairs. The food arrived eleven minutes later.
Elina felt her fish finger sandwich was a bit soggy but I had a better experience with my burger. It was too big to fit in my mouth, and fell apart as soon as I tried, but once I disassembled it I tucked into some great tasting beef, bacon, sauce and dressing using the handily provided steak knife. Not my favourite food experience, but a great atmosphere and reasonable value.
I am less of a fan of Stonegate Pubs' other venues. You could perhaps be forgiven for thinking The Hourglass was the official sponsor of English football hooliganism (for the record - it is not) given the number of police vans outside it when Leeds are playing at home. They do offer two for one desserts though.
Reviewed by Leeds Restaurant Guide.
Address
157-158 Lower Briggate, Leeds LS1 6BG
More options
See more Pub Grub reviews.