The Phoenix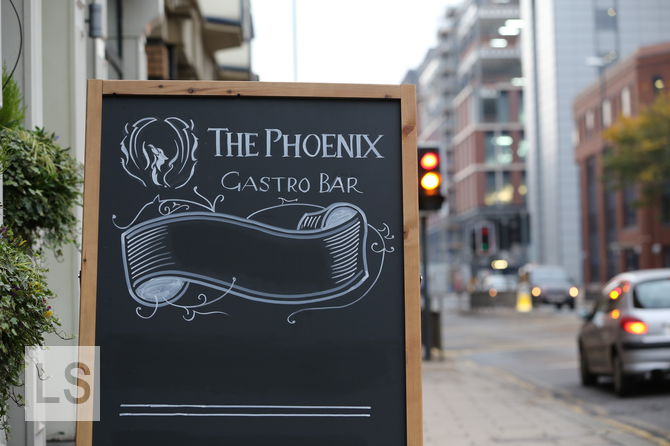 We head to The Phoenix one lunch time. It has recently been renovated and describes itself as a "gastro bar". After a queue at the bar I order a drink and am given it in a screw top jar, with a handle. It seems very hipster to me. Why would you design glassware with both a screw top and a handle? The cutlery later turns up in a golden syrup tin.
We sit down at a table and having gone on a mission to find a menu, we wait for someone to take our order. It is cold and I am forced to put my coat back on. Understanding the menu is no easy task. The font makes it almost unreadable to me and the brown background prevents the text from standing out.
Having ordered, our food eventually turns up one hour five minutes after we had first entered the venue. The sandwiches look small to me and no crisps, which the waitress said came with them, turn up until I ask a waiter about them. He then brings a communal bowl for the table. One of the sandwiches has been made in the wrong bread. My food turns up a further ten minutes after everyone's sandwiches, by which point they have all finished their meals, possibly due to the small size.
I do not enjoy the food. For me, the sausages are overcooked, going crispy at the corners.
When we try to pay, the card machine stops working. We are forced to go round the corner to the cash machine. The barmaid apologises for the issues saying this is the first day they have done food. Perhaps it is teething problems. However, consider the problems. £7 for a small sandwich with no crisps. One in the wrong bread. Over an hour. Food does not come out at the same time. No card payments. Difficult to read menus. Cold temperatures. That is hardly one or two small issues. That is a whole platter of problems.
Reviewed by Leeds Restaurant Guide.
Address
88 Wellington St, Leeds, West Yorkshire LS1 4LT
More options
See more Pub Grub reviews.