The Pour House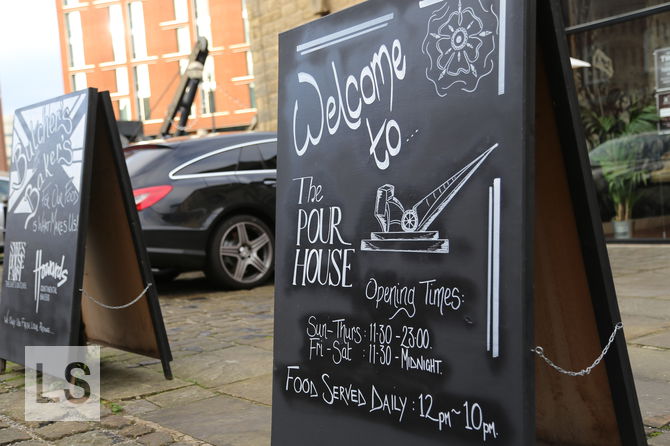 Let's start by tackling the name. The Pour House. Say it out loud. It sounds like you are saying The Poor House. Or, if you are a crazy cat lady like my friend Gabriele, possibly even The Paw House. It is owned by Leeds Brewery and therefore quite frankly it feels like they should have realised the Yorkshire accent would blend it all into one.
Silly name aside though, The Pour House is a nicely fitted out pub sitting next to the canal at Granary Wharf. I do not think it is obviously a pub from a distance. The building they are in says "BMB GROUP" in big letters. It was only after months of wondering why the office worked so late that I ventured up to the door and discovered it was in fact a pub.
Their outside area offers views down the canal and good quality furniture, although they are rather bulky and cumbersome. Inside they have two floors, the ground floor with the main bar area and a smaller mezzanine level above.
Both myself and Elina opt for the full rack of ribs. The meat comes away from the bone easily but the so-called barbecue sauce does not do it any favours. It tastes so sweet that I find the whole dish sickly to the point where I would have it without the sauce next time, if I were to have the dish again. The chips come in for mixed opinion. I enjoyed them but others were less favourable in their descriptions. The white chocolate cheesecake is a winner all-round though.
Ribs wise, I think your money is better spent elsewhere. However, if you order off their Two-for-Tuesday menu, there is certainly value to be had when it is warm enough to sit outside.
Reviewed by Leeds Restaurant Guide.
Address
Water Lane, Canal Wharf, Leeds, West Yorkshire, LS11 5PS
More options
See more Pub Grub reviews.