Toast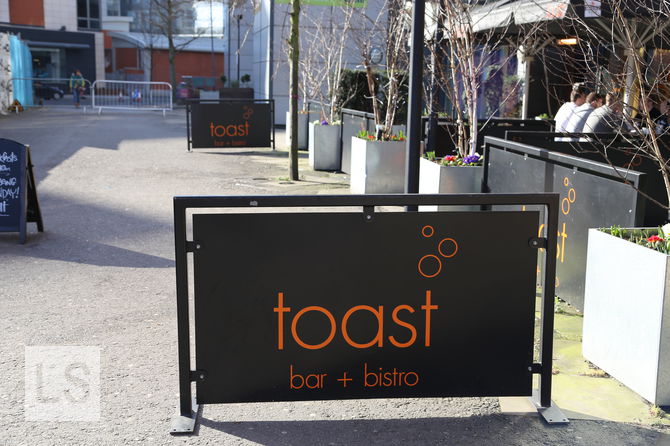 Being the local watering hole for several companies - the warm up bar as it were - I was surprised to find Toast to be a reasonably laid back, well-furnished affair. It was busy and had plenty of noise, but they had a seated area with cutlery laid out for those dining.
Having been knocked back for a J2O, the waitress suggested a range of juices they had, including strawberry, which turned out to be delicious, even though it tasted very similar to apple juice. The lemonade was a little strange though, it was not real lemonade taste, but still somehow tasted more sugary.
We both went for one of the burgers, which arrived in a reasonable amount of time and were nicely cooked, slightly pink in the middle with a well done outside. It was stacked so high with the height of the compact but deep burger and the salad and cheese dressing that I could barely fit it in my mouth. To its credit, it did not fall apart in my hands and maintained its integrity to the end. I could not taste the bacon though, which, thinking about it, I do not even remember seeing in there. However, it could have just been hidden by the cheese.
The chips were also incredibly moorish, probably due to the fact we had actually been served a bowl of rock salt with some chips in it, but it clearly gets results as we both finished off the entire bowl and could still taste the salt on our lips for a while after.
When it came to paying the bill, we ended up getting the wrong table's and almost charged for a round of alcoholic drinks, but this was soon rectified. The whole experience was reasonably speedy, which is important during week day lunches when people need to get back to their office.
Reviewed by Leeds Restaurant Guide.
Address
West Point, Wellington St, Leeds, West Yorkshire LS1 4JY
More options
See more Pub Grub reviews.